Posted on
Wed, Jun 5, 2013 : 5:58 a.m.
Gas station on Ann Arbor-Saline Road wants to add drive-thru lane for Tim Hortons
By Lizzy Alfs
The owner of the revamped Shell gas station on Ann Arbor-Saline Road wants to construct a drive-thru lane to serve the attached Tim Hortons restaurant.
Abraham Ajrouch, owner of the 1.44-acre site at the corner of Eisenhower Parkway and Ann Arbor-Saline Road, said a drive-thru lane is crucial for Tim Hortons' business.
"People just want to get their coffee and go," he said. "I see a lot of people pull in here and look to see if there's a drive-thru, and then they just leave. You have to have a drive-thru for a Tim Hortons."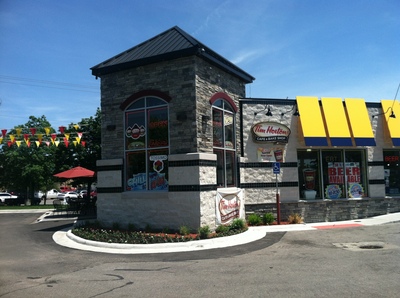 Lizzy Alfs | AnnArbor.com
In 2012, Ajrouch completed a renovation of the Shell gas station at 2679 Ann Arbor-Saline Road. The project, which he said totaled more than $1 million, included constructing an addition, converting a former car wash area into a retail space and reconfiguring the parking lot.
As part of the renovations, Tim Hortons signed a lease to occupy 1,100 square feet of the 4,089-square-foot gas station. Ajrouch did not construct a drive-thru at the time, because the already-approved plans did not include one.
Ajrouch said customers "love" the renovation and the Tim Hortons coffee shop, but he said he could lose Tim Hortons as a tenant if he doesn't construct the drive-thru. He recently submitted a revised Planned Unit Development zoning and site plan to the city of Ann Arbor that would allow the construction of a drive-thru window and drive-thru lane on the north end of the site.
A portion of the site would be reconfigured to create space for the drive-thru, and Ajrouch said he would relocate an outdoor picnic area to the center of a landscape island on the property. He would move a pedestrian sidewalk further north and install signage to caution pedestrians and drivers to stop before crossing.
Eight residents attended a citizens participation meeting for the project on May 6, according to city documents.
"The citizens were generally in favor of the project/business and were particularly complimentary of the recent renovations and the addition of the Tim Hortons Restaurant," a city report says.
Concerns included the effect a drive-thru would have on traffic, but Ajrouch said traffic counts to the station are already down since the car wash was removed. He said gas sales have also dropped significantly due to gas prices.
"I'm happy with the renovations I did. It was a huge investment and the building is beautiful now, but if I can't get the drive-thru, then I can't continue to have Tim Hortons," Ajrouch said.
The plans are expected to go before the city of Ann Arbor's planning commission in July.
Lizzy Alfs is a business reporter for AnnArbor.com. Reach her at 734-623-2584 or email her at lizzyalfs@annarbor.com. Follow her on Twitter at http://twitter.com/lizzyalfs.