Posted on
Fri, May 11, 2012 : 5:58 a.m.
Gault Village Shopping Plaza for sale as improvements, litigation continues
By Tom Perkins
A struggling Ypsilanti Township strip mall is on the market.
Gault Village, which is holds several large abandoned stores and has been a source of litigation between its owners and the Ypsilanti Township for more than 18 months, is listed by CB Richard Ellis.
A representative from CBRE said the price was a "confidential" and declined to comment on the listing.
The 235,000-square-foot plaza is owned by Sylvan Township-based Union Lake Associates, who have been ordered by Washtenaw County Circuit Court Judge Donald Shelton to tear down a former Kmart in the plaza and make other repairs throughout Gault Village.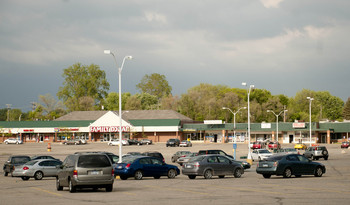 Tom Perkins | For AnnArbor.com
Township building director Ron Fulton said Union Lake has made some progress with the demolition plans, has remediated mold issues in all the occupied stores - though mold remains in unoccupied spaces - and has fixed a leaking roof over a former grocery store that flooded at one point.
But he said there is a hearing in front of Shelton on May 18th at which township officials, township attorneys, the plaza's mortgage holder and all Union Lake's partners will be present. Fulton said the township has mostly been dealing with the company's senior partner and Fulton is hoping the process will be sped up if the court tells all the partners "it's time for action here instead of dragging your feet".
Shelton ordered the Kmart, which has been abandoned for over 20 years, demolished within 60 days in early September. The building has a collapsing roof, cracked outer wall and mold infestation, among other issues
The project is complicated because it involves tearing down the Kmart while the neighboring unit occupied by school-test grading agency Measurement Inc. remains in its space.
Once the Kmart portion of the plaza is demolished, Measurement Inc. will only be left with an inner wall, and a new outer wall will have to be built. The lot Kmart is on could also legally be separated from Gault Village.
If someone were to immediately purchase the property, they would be obligated to execute the court orders.
"The buyer has to take on responsibility," Fulton said.
"We think we're close to a good resolution so we're optimistic," he added.
Mike Radzik, director of the township's office of community standards, said Gault Village has struggled since freeway exits at nearby I-94 were eliminated around 30 years ago.
"It went from being a regional draw to a strictly local draw, so businesses that couldn't draw under those circumstances, by necessity, had to change," he said.
The plaza has also been an eyesore for residents in adjacent neighborhoods.
Radzik said residents there like the convenience of an ACO Hardware store and other stores, but are eager to see Gault Village fully repaired.
"They want to see it thrive, but at the same time it has got be well-maintained so it's not affecting their property values, or mental health, adversely," Radzik said.