Posted on
Mon, Mar 1, 2010 : 2:48 p.m.
GDI Infotech CEO Bhushan Kulkarni resigns to lead spinoff software firm
By Nathan Bomey
Ann Arbor software executive Bhushan Kulkarni is relinquishing his role as CEO of GDI Infotech in favor of leading a startup software firm spun out of GDI.
Kulkarni becomes CEO of startup InfoReady Corp., and Madhuri Deshpande, GDI's executive vice president and chief operating officer, becomes CEO of GDI in a leadership transition that takes effect today.
Kulkarni will remain chairman of GDI. Deshpande, founding CEO of Ann Arbor software firm Soft-Link International, joined GDI's leadership team last summer when GDI acquired Soft-Link.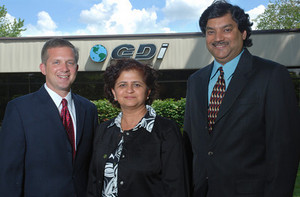 Photo by Nathan Bomey | AnnArbor.com

GDI helps major corporate customers streamline databases and eliminate inefficiencies and overlapping functions in software applications.
"GDI's core business is well established and has continued to see the growth over the years through a lot of economic ups and downs," Kulkarni said.
For the last 18 months, GDI has been developing a software product called InfoReady - and Kulkarni said the product was a better fit for a separate startup company. The firm initially will operate out of GDI's offices on Varsity Drive.
Kulkarni said InfoReady would seek outside investment, including possibly angel dollars, to fuel its growth. Some GDI customers are already using InfoReady's first product, which helps companies find grant opportunities.

"It basically does search aggregation, filtering of unstructured information and allows information to be applied very quickly through social media channels," Kulkarni said. "I'm excited about the opportunity that presents through the traction that we have already gotten through this platform and the ability to scale up that part of business rapidly."
The transition comes as 16-year-old GDI has been forced to scale back its growth plans. The firm said in August that by the end of 2009 it would add 30 to 50 employees to its national staff of 120, which included about 30 in Ann Arbor.
But Deshpande said this afternoon that GDI has added only a few staff members since August. GDI had to decelerate its growth plans as its clients embraced budgetary caution last year, she said. The firm has also had to delay plans to expand its facility on Varsity Drive in Ann Arbor.
However, Deshpande said she anticipates adding staff in 2010. She envisions additional opportunity for GDI in the health care and pharmaceuticals segment.
"The goal for this year is going to be very much to grow these numbers very rapidly because now the market is opening up and we're seeing some clients starting some projects that they were putting on hold in 2009," she said.
GDI also announced that it had added three members to its Board of Directors: uRefer chairman Dick Beedon; Windy Hill Ventures founder Mark Muntean; and Grant Beard, partner at The Anderson Group and former CEO of HealthMedia and TriMas Corp..

Contact AnnArbor.com's Nathan Bomey at (734) 623-2587 or nathanbomey@annarbor.com or follow him on Twitter. You can also subscribe to AnnArbor.com Business Review's weekly e-newsletter or the upcoming breaking business news e-newsletter.