Posted on
Sat, Nov 12, 2011 : 5:58 a.m.
2011 holiday shopping season: Ann Arbor retailers expect uptick in sales
By Lizzy Alfs
For David Lewis, the owner of Ann Arbor's long-time Lewis Jewelers, sales at his jewelry store on West Stadium Boulevard typically double in November and triple in December.
For the 26 employees that run the store, the uptick in business during the holiday season means lots of overtime.
And despite a still tepid economy and disappointing sales in 2008 and 2009, Lewis predicts this holiday season will be "unbelievable."
"Things are picking up since then," he said. "Things have been great all year and so there's no reason to think the holiday time won't be way bigger."
Many Ann Arbor area retailers echo Lewis' sentiment: The 2011 holiday season should equal an improvement over the last few years.
The National Retail Federation projects that 2011 holiday shopping sales - defined as transactions that occur in November and December - will reach $465.6 billion, a 2.8 percent increase over 2010.
And in Michigan, nearly nine of 10 retailers expect a holiday season as good or better than last year, according to a survey conducted by Michigan Retailers Association.
To help ensure the season runs smoothly, U.S. retailers will hire an estimated 480,000 to 500,000 seasonal employees this year, about the same that were hired in 2010.
Locally, many retailers are hiring seasonal employees or extending staff hours in the coming weeks.
In October, Zingerman's announced its plans to hire 300 temporary workers to help fulfill the company's mail orders during the holidays.
Briarwood Mall has several job postings on its website, including seasonal positions at Sephora, Bath & Body Works, Macy's, Swarovski, Victoria's Secret, Williams-Sonoma and Helzberg Diamonds.
The Produce Station, Edible Arrangements and Tree Town Towns are all hiring 4 or 5 employees to help staff the busy holiday hours.
"We hire extra people every holiday season and have to bring all kinds of extra staff to help," said Michelle Toal, owner of Ann Arbor's Edible Arrangements on Washtenaw Avenue.
Andrew Gorsuch, general manager at The Produce Station on South State Street, said the extra employees are necessary during the holidays because business at The Produce Station typically increases 15 percent during November and December.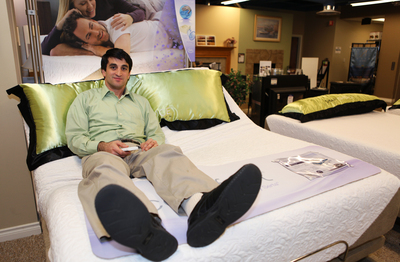 Jeff Sainlar I AnnArbor.com
"We sell a ton of Christmas trees, wreaths and roping," he said. "I need people to help with that. And our catering business grows dramatically during that time."
But with a still unstable economy, some local retailers are taking measures to ensure sales rise this year, including stressing local products and customer service, utilizing online sales and rolling out new products.
Hans Masing, co-owner of Tree Town Toys on Plymouth Road, said he hopes customers recognize the benefit of purchasing from a local retailer during the holiday season.
"We hope that customers recognize our service and our knowledge of how to get exactly the right toy in to their kids hands," he said, "along with supporting local jobs and the local economy."
The largest holiday pressure, Masing said, comes from online toy suppliers.
But he pointed out that at about the same price, people can get a product from Tree Town Toys and "help the entire community."
Mark Bishar, vice president of Big George's Home Appliances on West Stadium Boulevard, said he is focusing his energy more on holiday sales this year than in previous years because customers have started purchasing larger products as holiday gifts.
"We used to think nobody would buy a dishwasher during the holiday time," he said. "But that's changing. People are still considering large purchases during the holidays, which is probably the opposite of what people would think."
He said the Internet is also instrumental in driving traffic to the long-time, family-owned Ann Arbor store, especially during the holidays.
"There is a ton of traffic to our website during the holidays," he said.
Bishar said he also hopes to see increases in holiday sales this year after adding bedding products to the store this summer.
But for some businesses, the holiday season doesn't mean a big uptick in customers, particularly those locations near the University of Michigan campus.
Sava Lelcaj, owner of Sava's Restaurant on South State Street near the U-M campus, said her business actually slows a little when the students leave for holiday break.
"We experience an increase in volume until the school semester is over," she said.
"[Then], we, on State Street, slow down a significant amount," she continued. "In fact, holiday break at U-M is our slowest time of the year."
Lisa Bee, owner of Sweetwaters Cafe, said that although her Ann Arbor coffee shops do get some increased business during the holidays, it's still affected when students leave.
"We see a slight uptick," she said, "but the issue is that a lot of the students are gone."
To help draw customers over the holidays, Sweetwaters rolls out seasonal drinks and stresses its locally made products.
"Seasonal drinks are always really popular," she said.
"It helps that we have Michigan made products, and a lot of people are looking to support Michigan business."
Lizzy Alfs is a business reporter for AnnArbor.com. Reach her at 734-623-2584 or email her at lizzyalfs@annarbor.com. Follow her on Twitter at http://twitter.com/lizzyalfs.