Posted on
Thu, Jan 14, 2010 : 6:02 a.m.
General Electric deluged with interest for technology jobs in Ann Arbor region
By Nathan Bomey
Any initial skepticism that General Electric would not find enough talent to fill 1,200 job openings at its new information technology operation in Van Buren Township can be dismissed.
The company has attracted 18,000 job applications for its local jobs over the last few months, GE officials said.
"We're not for lack of talent here," said Kim Bankston, GE's human resources leader for the site.
The tidal wave of interest is partly reflective of Michigan's 14.7 percent unemployment rate. But GE officials said they've had more than enough qualified applicants to take the first several dozen jobs, which require 15 to 20 years of experience.
The operation reflects GE's decision to build its domestic capacity to conduct advanced technology work in areas such as business intelligence, data warehousing and other IT services.
The 200,000-square-foot office, part of the old Visteon Village complex, will become GE's largest single-site IT operation.
"Nowhere do we have such a large population of technology professionals under one roof," said Vic Bhagat, GE's site leader. "We are really building our core technical capabilities - and that's what's going to help us be competitive in the future. The innovative mindset, the creative mindset."
GE officials said they would eventually hire 900 to 1,000 IT professionals and technology engineers. The firm later expects to establish additional engineering and advanced manufacturing capability at the site with another 200 workers.
The site will serve as a hub for a variety of GE operations, including its aviation business, energy division, health care operation and capital operation. The high-tech site will eventually contribute advancements to GE's wind energy and smart grid technology capabilities.
AnnArbor.com recently toured the new GE facility, which already employs 60 to 70 workers. That reflects an accelerated timeline, because the company originally planned to start hiring in 2010.
"Visteon Village was already ready. It's a beautiful campus. They had the same concept of an open-space collaborative environment," Bhagat said. "We wanted to create an environment where we could really harness innovation, harness creativity."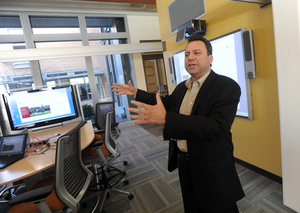 Photo by Lon Horwedel | AnnArbor.com
The state-of-the-art site itself is emblematic of the ongoing transition in Michigan's economy. The Visteon logos, still present through GE's offices, present a stark reminder of the downfall of Michigan's auto industry.
GE and Visteon are now neighbors at the site, which has been renamed Grace Lake Corporate Center.
But Deia Campanelli, GE's communications leader at the site, said GE didn't have time to reflect on the site's past.
"It's not a focus on what was," she said. "It's a focus on what will be."
Contact AnnArbor.com's Nathan Bomey at (734) 623-2587 or nathanbomey@annarbor.com. You can also follow him on Twitter.