Posted on
Tue, Apr 24, 2012 : 6:26 p.m.
General Electric to hire an additional 300 employees at Van Buren Township research center
By Lizzy Alfs
Related story: General Electric's 'reinvestment' in Michigan adds 850 jobs to Van Buren Township
General Electric is one-upping its own hiring goal.
The company — which opened its 200,000-square-foot Advanced Manufacturing and Software Technology Center in Van Buren Township in 2009 — originally planned to hire 1,100 people to work at the center.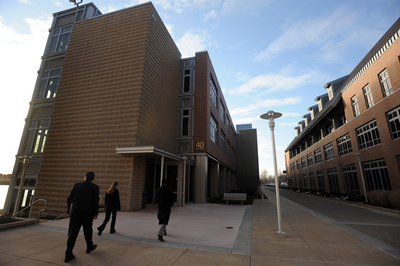 File photo | AnnArbor.com
With 850 employees already hired, the company announced this week it plans to bring the job total to 1,400.
The additional hires will be in the research and information technology fields.
The company also announced it plans to expand its summer internships and co-ops for college students by 25 percent, hiring roughly 110 students for summer assignments in Van Buren Township and several GE Aviation locations in Michigan.
Gov. Rick Snyder, in a release, called the news "not only a win for Michigan, but the nation as well."
""GE and Michigan have a proud partnership, and are working to renew and strengthen our country's global competitiveness through innovation and manufacturing," he continued. "The cutting-edge work that is taking place, as we continue the reinvention of Michigan, shows we mean business."
The Van Buren Township facility— which is housed in the former Visteon Village complex— is GE's largest single-site IT operation and it is primarily used by researchers and IT experts who develop software and data sharing systems that make GE technologies such as wind turbines, jet engines and even household appliances function more efficiently.
GE officials said at a news conference Monday that hiring is ahead of schedule at the center with a rate of two new people per day. Nearly 90 percent of the new hires are from Michigan.
Lizzy Alfs is a business reporter for AnnArbor.com. Reach her at 734-623-2584 or email her at lizzyalfs@annarbor.com. Follow her on Twitter at http://twitter.com/lizzyalfs.