Posted on
Fri, Aug 2, 2013 : 11:45 a.m.
General Motors announces $900,000 grant for middle and high school science education
By Ben Freed
As the rebounding economy adds more jobs, many of the higher paying openings require applicants to have science or engineering degrees.
With this trend in mind, General Motors announced a three-year $900,000 grant Friday morning to that will help fund Project Lead The Way, a national non-profit STEM — Science Technology Engineering and Mathmatics — curriculum provider.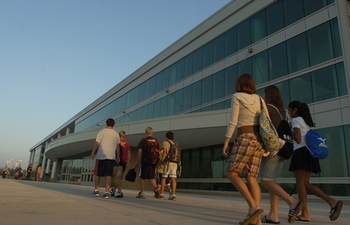 File photo
The announcement took place at
Eastern Michigan University
, where teachers who will be using the Project Lead The Way classes receive their training and support. With the
increased focus on STEM education
, both employers and educators are turning their focus to preparing middle and high school students for these advanced college courses.
"Project Lead The Way ensures that U.S. schools succeed in preparing students in our increasingly high-tech and high-skill economy," John Dugger, director of Michigan's Project Lead the Way affiliate program at EMU, said in a statement.
"This program is our country's leading provider of rigorous STEM classes. It is a hands-on program that engages students on multiple levels to promote critical thinking, creativity, innovation and real-world problem-solving skills."
Ford announced earlier this summer that it is increasing the number of engineers its hiring in 2013 by 800 positions, and 90 percent of those new salaried jobs have been in Southeast Michigan. The region has long been a leader in employing engineers thanks to the automotive industry, and GM vice president of global vehicle engineering John Calabrese said in a statement that education is important in continuing that success.
""In order to ensure our leadership in the automotive industry, and advance our innovative transportation solutions, we need to always look for opportunities to strengthen our involvement with science and math education programs," he said.
"It is essential that the next generation of professionals has the skills and education necessary to compete on a global platform, particularly as it pertains to STEM-related fields."
The grant money provided by GM can be used by middle and high schools throughout Michigan to participate in the program. Participating schools will use the money to purchase classroom supplies and equipment for the courses and send teachers to a professional training development program at EMU.
There are 122 schools in Michigan offering Project Lead the Way curriculum, and it is estimated that the grant from GM could help an additional 24 schools join the program. Washtenaw County has 11 schools in the program including Skyline, Saline and Lincoln high schools, and Tappan, Clague and Scarlett middle schools.
EMU and General Motors are not the only higher education-business partnership focusing on STEM education in the county. Washtenaw Community College offered an intensive two-week STEM program for high schoolers over the summer that was funded by DTE Energy.
Ben Freed covers business for AnnArbor.com. You can sign up here to receive Business Review updates every week. Get in touch with Ben at 734-623-2528 or email him at benfreed@annarbor.com. Follow him on twitter @BFreedinA2