Posted on
Sun, Apr 25, 2010 : 6:01 a.m.
General Motors' Willow Run plant marketed as part of Detroit-area 'Aerotropolis'
By Nathan Bomey
The repositioning of the soon-to-be-shuttered General Motors powertrain plant in Willow Run fits comfortably within efforts to transform the 60,000-acre region in Wayne and Washtenaw counties into a so-called "Aerotropolis," officials said.
That economic development initiative aims to use incentives to entice transportation companies to invest in the region surrounding the Detroit Metropolitan Airport and Willow Run Airport.

"We would expect this to be marketed as part of the Aerotropolis properties that are available," said Michael Finney, CEO of economic development group Ann Arbor SPARK. "That is already a commitment."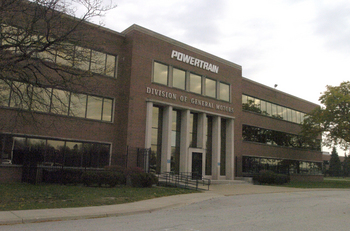 File photo | AnnArbor.com
The 5 million-square-foot plant, which still has 527 employees, will be closed at the end of December. The closure is part of a restructuring plan initiated in 2009 during GM's bankruptcy filing.
Several prospective tenants have toured the site, Ypsilanti Township Supervisor Brenda Stumbo said. One of those was a military vehicle rehabilitation company, an aide to Gov. Jennifer Granholm told AnnArbor.com in November.

Finney declined to provide details about companies that have toured the site but said there's "no imminent deal."
Stumbo said she's hopeful that the site will eventually play an active role in the Aerotropolis initiative.
"But it takes time to really make deals become reality with the creation of jobs. That's what we're looking for," she said.
The plant, which sits on a 335-acre site, employed some 14,000 workers at one point in the 1970s but was down to about 1,300 when GM announced the closure last year. GM paid $5.4 million in taxes on the property in 2009.

GM spokesman Kevin Nadrowski said he had not details to share about the repositioning effort for the historic plant, where workers manufactured B-24 bombers during World War II.

But Finney and Stumbo said prospective tenants have explored the possibility of occupying portions of the site. About 20 percent of the plant was part of a renovation project completed 2006 - and that space is considered more marketable.

Finney said the other 80 percent of the 68-year-old site is "older but it could be very useful."
"All of it is usable at this point, but it's doubtful that we'll find an individual entity looking for 5 million square feet," he said.
Hopes for abandoned auto plants have lifted over the last 12 months after Ford Motor Co. struck a deal to sell its massive Wixom plant to alternative energy companies and other automakers got traction in their repositioning efforts.
"I do think there's definite hope for the future of that plant," Stumbo said.
Contact AnnArbor.com's Nathan Bomey at (734) 623-2587 or nathanbomey@annarbor.com or follow him on Twitter. You can also subscribe to AnnArbor.com Business Review's weekly e-newsletter and the breaking business news e-newsletter.