Posted on
Wed, Aug 15, 2012 : 2:59 p.m.
Google virtual tours let you get up close and personal with Ann Arbor businesses
By Lizzy Alfs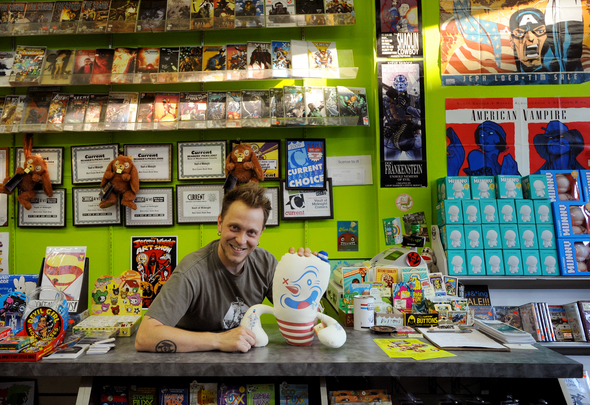 Melanie Maxwell | AnnArbor.com
A
Google
service hitting the Ann Arbor area is taking online shopping to a new level.
With Google's Business Photos service, customers can browse the shelves of a store from their computer screen.
The service, which the company announced in 2010, gets customers off the street and inside storefronts with interactive, 360-degree online tours of businesses. It's only available in select markets, and it recently started rolling out in the Ann Arbor area.
At downtown Ann Arbor's Vault of Midnight comic book store, Internet users can zoom in on shelves of comic books, peruse a wall of hanging T-shirts and check out a rack of board games.
The range of motion on the virtual tour, said store owner Curtis Sullivan, is "amazing."
"You can go all the way up and down the store," he said. "It's totally nuts."
Google's Business Photos is an opt-in program: Businesses pay a "trusted Google photographer" to come and take a series of still interior photos, which are then stitched together to create panoramic walkthroughs.
"With business photos, your customers can walk around, explore, and interact with your business like never before," Google says on its website. "Customers will be able to truly experience your business — just like being there."
The virtual tour then appears on a business's Google Places page, and it can be embedded on the store's website and social media pages.
"We're going to use (the virtual tour) as much as possible," Sullivan said. "I just love the idea of being able to drop in from space and come into our store; I thought it was perfect."
Doug Willett of Livonia-based Luna Tech 3D, one of the few certified Google photographers in the area, has been taking business photos for Google in the greater Detroit market for two and a half months.
So far, he said, Luna Tech 3D has created virtual tours for more than 200 businesses.
"The first couple weeks it was pretty hard because nobody knew anything about it and we were knocking on doors every day," he said. "Now, more and more people are finding out about it … it's been very nice for our phone to be ringing."
Willett said business owners are charged a one-time fee typically between $375 and $975 for the service, depending on the store size. It takes less than an hour to shoot the interior of a business, and the virtual tour appears online within 48 hours, he said.
Willett and his team just started marketing in the Ann Arbor area, and a handful of local businesses have already opted-in, including Vault of Midnight, Renaissance clothing store, Goldfish Swim School, University Aquarium and Pet Shop, and Zaragon Place apartments.
"Really, in Ann Arbor, it's just getting started," Willett said. "We're creating the awareness out there. It's kind of where we were at in the Metro Detroit area a month and a half ago."
Rebecca Burlingame, general manager at Ann Arbor's Goldfish Swim School, said the business paid for the virtual tour because describing the facility over the phone "doesn't really do it justice."
"When people have the ability to do a 360-degree tour and get a sense of the facility and what it has to offer, it's a really great marketing technique for a business so people have a better idea of what they can expect," she said.
She added: "The only thing that could make it better is if you could feel the 90 degree water."
(Check out Goldfish Swim School's virtual tour here)
Willett said it's that online visibility that helps businesses stand out in a competitive market.
"The question is: How do you stand out from your competition when people are searching for things on the Internet?" he asked. "At the end of the day, it's all about driving traffic back to that website."
Willett, whose firm has worked with Google Earth for years, said the Business Photos service has also given Luna Tech 3D a "big boost" in business.
"We're a small business here in Michigan trying to make a go of it …. Since we've started the Business Photos, we've had to bring on additional people," he said. "It's grown so much faster than anything we've done in the past."
For more information and to check out virtual tours of businesses around the world, visit Google's Business Photos website.
Lizzy Alfs is a business reporter for AnnArbor.com. Reach her at 734-623-2584 or email her at lizzyalfs@annarbor.com. Follow her on Twitter at http://twitter.com/lizzyalfs.