Posted on
Wed, Mar 30, 2011 : 5:55 a.m.
Get Your Game On is moving to ex-Great Wraps space on South State in downtown Ann Arbor
By Paula Gardner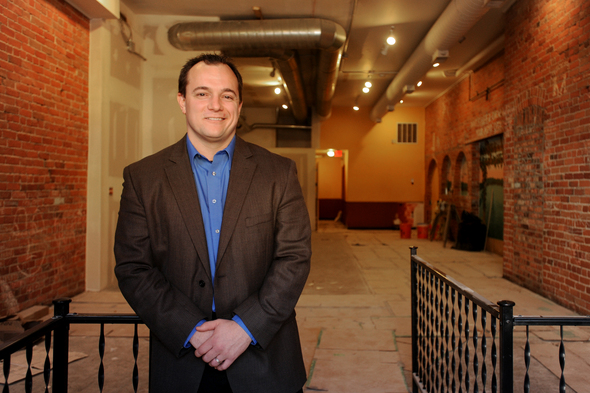 Melanie Maxwell I AnnArbor.com
The newest change on South State Street involves neither a restaurant nor a chain retailer as
Get Your Game On
plans to move from its location on Packard Road to the higher-visibility downtown
Ann Arbor
location.
The store — which features video games and non-electronic games — will open at 310 S. State St. on Monday after a weekend move into the former Great Wraps restaurant.
The storefront, next to Amer's Delicatessen, will feature retail sales on the main level, and gaming events on the lower level.
"We had to convert it from restaurant to retail space," store owner Alex Horvath said. "… And by this weekend, we'll be moving over, bit by bit."
The move has been in the works for some time, as Horvath sought a higher-visibility location for the 4-year-old store.
"We're not getting the visibility and foot traffic that I'd hoped for and expect," he said of the Packard Road location. "… People come in every day and say, 'I didn't know you were here.' "
Students at the University of Michigan make up much of his customer base, and he wants to be closer to the hub of campus. Non-students also want the vitality and parking availability of the near-campus downtown area, he said.
His search for a new location yielded few options, he said, until he learned that Great Wraps planned to close in January.
"We jumped on it, and were able to move pretty quickly," he said.
The 1,400-square-foot space was leased by Deb Pearson of Bluestone Realty, which represented the landlord, the Oxford Co. It was listed for $40 per square foot per year.
"It has been a goal of ours to put a non-food use in the space, and we think this adds diversity to the street," Pearson said, citing an oversupply of restaurants along the corridor.
The move by the independent retailer to the corridor — among the highest-priced areas in Ann Arbor — also comes as multiple chain stores open nearby. Both 7-Eleven and CVS now operate stores nearby.
"A lot of landlords are looking for a national chain," Horvath said. Oxford "was willing to take a chance on us, and I think it will benefit everybody."
The new store will be smaller, and the use of the lower level means the two functions — retail and daily events, which can draw 100 participants — will be separated.
But they'll still fulfill the store's goal: "To nurture and grow a great gaming community within Ann Arbor," as Horvath describes it.
Staffing will remain at 4, Horvath said, with each employee gaining hours after the move. Eventually, he said, he hopes to add up to 3 additional employees.
Get Your Game On — known as GYGO — is rare in the gaming world because it deals in multiple formats, Horvath said. That's also part of its appeal, and one reason why he thinks a move closer to campus will benefit the store and the students who've had to travel to Ann Arbor's traditional retail centers to shop for games.
"Both of the categories are increase," he said. "Video games grow year over year, but I also see more desire for people to disconnect and play some board games with their friends."
Paula Gardner is Business News Director of AnnArbor.com. Contact her at 734-623-2586 or by email. Sign up for the weekly Business Review newsletter, distributed every Thursday, here.