Posted on
Fri, Feb 17, 2012 : 5:58 a.m.
Paczki mean business: Ann Arbor bakeries prepare to sell Fat Tuesday treats
By Danny Shaw
Wtih Paczki Day just days away, local bakeries are ready, lining up secret ingredients and marathon baking sessions, all geared to fulfill promises that they sell the best jelly-filled pastries around.
Grocery chains like Meijer and Busch's started advertising the pre-Lenten pastries in mid-February, representing the mass appeal of the deep-fried, filled dough that resembles a donut.
Ann Arbor's independent bakers also are seeking a share of the paczki market by distinguishing their products.
Marybeth King, Weber's Inn Bakery pastry chef, said the Ann Arbor hotel and restaurant will focus on freshness.
Webers' production baker, Jerry Alcenius, even volunteered to come in at midnight on Paczki Day to bake the hundreds of traditional Polish pastries to make sure the freshness is of top-quality for Fat Tuesday customers.
"Ours are the freshest you'll find and they're grandma approved," King said. "They are all made from scratch."
The Weber's Inn bakery took advance orders last week for chocolate, custard, blueberry, raspberry, prune and lemon paczki.
King said orders will top last year's sale of 600 paczki. King said some will be available for walk-ins starting at 6:30 a.m. on Tuesday.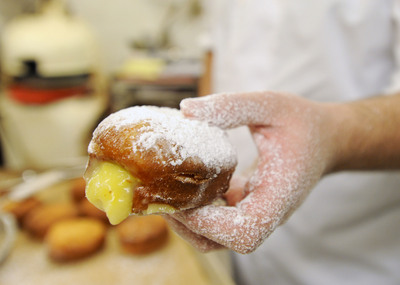 Angela J. Cesere | AnnArbor.com
Wise Guy's
, located at Packard and Woodlawn, is taking orders for raspberry, custard, lemon, apple and plum paczki.
Wise Guys has transformed the landing page of its website into a paczki ordering page. Orders can also be placed in person.
Kerry Thompson of Wise Guy's said its secret to what he considers the best paczki in town is the baker. Thompson said the baker's name is considered a secret ingredient, and is guarded closely by the Wise Guy's crew.
"This guy is a baker and owns a bakery. He is right there with us making them," he said.
Thompson said they sold hundreds last year and sold out by 9 a.m. This year, they are expecting even more customers - and he's excited to see how many they will sell.
"It's an exciting time," he said. "Last year was a hit. This year will be even better."
Zingerman's Bakehouse started taking orders in January for the pre-Lenten treat.
Sara Richardson, a marketing manager for Zingerman's, said the business had already received more than 600 orders before Valentine's Day and it expects to make more than 1,600 paczki by the time Fat Tuesday is over.
"People have been pretty excited to hear we are doing paczki again," Richardson said. "I think everyone who works here and our customers were really excited to have something new. They think they're really yummy."
Zingerman's will offer five different types of paczki - raspberry, plum, rose hip, ricotta cheese and chocolate pudding - for $2.95 each.
Richardson said last year, the first year the bakery offered paczki, Zingerman's sold more than 1,400 by 11 a.m.
Ann Arbor is particularly gung-ho about paczki. On Fat Tuesday in 2011, Ann Arbor led all regions of the country in Google searches for paczki, according to the search engine's web analytics.
Contact reporter Danny Shaw at 734-623-2544 or dannyshaw@annarbor.com.