Posted on
Tue, Dec 6, 2011 : 5:58 a.m.
Glacier Hills Senior Living Community to get liquor license thanks to change in law
By Lizzy Alfs
Ann Arbor City Council recently approved a request from the Glacier Hills Senior Living Community for a continuing care retirement center liquor license.
It will now go to the Michigan Liquor Control Commission for final issuance.
The Glacier Hills compound, situated on 34 acres off Earhart Road in Ann Arbor, is a continuing care senior living community that offers a range of living environments, including short and long-term.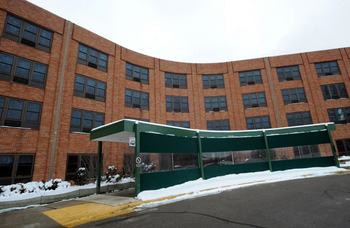 Melanie Maxwell | AnnArbor.com
Until recently, most senior residential communities in the state of Michigan were not able to qualify for a liquor license because they are usually privately owned and don't meet the guidelines for an on-premise Class C liquor license.
But a change in legislation now allows up to 20 Michigan retirement facilities to obtain a license with approval from the Michigan Liquor Control Commission.
Ray Rabidoux, president and CEO of Glacier Hills, said those licenses are being issued on a first-come, first-serve basis.
"In order to be eligible, you have to be a continuing care retirement community in the state of Michigan. There are about 26 in the state that meet that definition," Rabidoux explained.
"There are a number of other communities that have also applied for the licenses," he continued.
Rabidoux said he is expecting the license to be issued sometime in December, and then it will be a month or two before Glacier Hills will make alcohol available to its residents.
He said the option for alcoholic beverages will be mostly targeted towards residents in the independent living areas of the compound.
"The residents certainly in their own apartments can have anything they want," he said. "This is primarily for dining rooms and other areas where there may be functions where the residents would like to purchase an alcoholic beverage."
Glacier Hills staff will be trained to make sure people aren't over-served and that they are in the appropriate condition to be given alcohol.
"It's the same kind of training that wait staff anywhere that serves alcohol would have to have," he said.
Rabidoux said the decision to serve alcohol at Glacier Hills is important because the residents should have the option.
"For many of them, it's more difficult to get out and go to a restaurant or a bar or something if they'd like an alcoholic beverage," he said. "Now, they can have the convenience and enjoyment of being able to do that at Glacier Hills as part of their facility."
Lizzy Alfs is a business reporter for AnnArbor.com. Reach her at 734-623-2584 or email her at lizzyalfs@annarbor.com. Follow her on Twitter at http://twitter.com/lizzyalfs.