Posted on
Sun, Nov 6, 2011 : 5:57 a.m.
Glee Cake & Pastry shop to open in downtown Chelsea
By Laura Blodgett
Laura Blodgett | For AnnArbor.com
A new bakery called
Glee Cake & Pastry
plans to open in downtown Chelsea to sell upscale treats just in time for the holiday season.
The store gets its name from owner and executive pastry chef Glee Havens, who is opening at Mission Marketplace's former storefront at 117 S. Main St.
The shop will open Nov. 11 in time for the annual Wine, Women & Shopping event in downtown Chelsea.
Featuring European-style wedding cakes, cupcakes and individual pastries, Glee will service local high-end restaurants and caterers and will include a small retail section for walk-in customers.
Some of her most popular desserts include pate a choux creme puff shaped like a swan, napoleons, profiteroles, cinnamon walnut caramel squares and fruit tartlets.
Cupcakes and cake by the slice will be available in the same flavors as her wedding and specialty cakes including white chocolate mousse with raspberries, chocolate ganache and lemon curd chantilly creme.
One of her ideas is to personalize treats with custom hidden notes inside similar to what one receives with a bouquet of flowers.
"We thought it would be neat if we tucked a note inside our cupcakes and cakes like 'Will you marry me?' " said Havens. "We're going to play with that idea."
Raised in upstate New York, Havens received an economics degree from SUNY/Buffalo before attending the Baltimore Culinary Institute where she trained under Jan Bandula, who served as White House pastry chef during the Carter administration.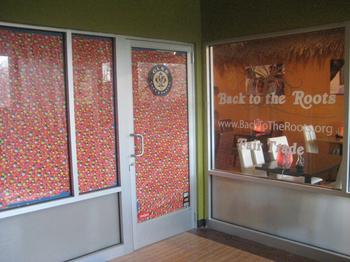 Laura Blodgett | For AnnArbor.com
After culinary school, Havens was executive pastry chef for the Omni Hotel & Convention Center in Maryland, where she catered to many of the area's restaurants, hotels and gourmet shops.
Her desserts have been served to late President Gerald Ford, Frank Perdue, Bubba Smith, Oliver North and the Baltimore Orioles baseball team. Her work has been featured in Architectural Digest and Bon Appetit.
After meeting her husband, Havens moved to Michigan in 1991 to raise her family in the Munith/Stockbridge area. During this time, she built a loyal following for her wedding cakes and pastries while working out of her home.
She hopes opening a storefront will allow her to further grow her business.
"I wanted to be in Chelsea because it seemed a logical fit for this type of upscale pastry shop," said Havens.
She was originally looking to lease space in the Clocktower Commons further north on Main Street when her real estate broker told her that the Mission Marketplace lease had expired and the landlord would consider leasing to someone who would pay closer to its market value.
"His real estate agent got a hold of us, and when we went in we thought this would really be the best spot for what we are offering," said Havens. "We think it's a good fit with Common Grill and Chelsea Market on that same block."
The 2,000-square-foot space had to be completely gutted to allow for restaurant ventilation, and new floors and coolers were installed. Havens described the decor as "kind of an old Paris bistro feel" with painted white furniture and black marble tables.
Havens said she doesn't envision it being a cafe where customers bring their kids or linger, so she doesn't anticipate being in competition with other bakeries in the area.
"What we're offering is nothing like what anyone else (in Chelsea) is offering," said Havens. "I am not a coffee shop. This is more about upscale desserts."
Havens has hired four employees, and is considering hiring a few more local Chelsea residents in case they expand their hours.
Glee will be open from 10 a.m. to 6 p.m. Tuesdays through Sundays, though hours may change in the future.