Posted on
Mon, Dec 12, 2011 : 4:06 p.m.
Jewelry acquirer plans to spend $200,000 in Ann Arbor this week
By Lizzy Alfs
Planning to spend at least $200,000, a company called International Gold, Silver and Diamond Buyers is visiting Ann Arbor this week to purchase people's old coins, broken necklaces, class rings and other items.
The company - which travels to hundreds of towns each year - will be stationed at the Courtyard Ann Arbor on Boardwalk Drive near Briarwood Mall from 9 a.m. to 6 p.m. on Dec. 13-16 and 9 a.m. to 4 p.m. on Dec. 17.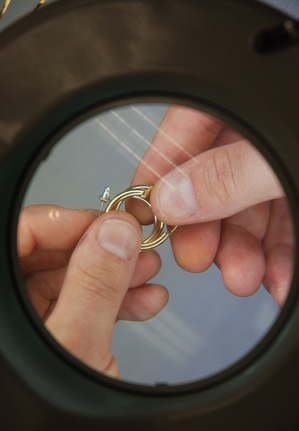 Courtesy photo
People can bring in items like coins, paper currency, gold, silver and diamonds, and members of the International Gold, Silver and Diamond Buyers will assess them on the spot.
"Specialists review, research and evaluate the items and will make an offer to purchase all gold coins, silver coins made before 1965 and paper money printed prior to 1934," according to a news release.
The value of other items depends on the silver or gold content, the collectability, the rarity and the condition.
If the offer is accepted, the International Gold, Silver and Diamond Buyers will write a check on the spot.
"Gold and silver are trading at record highs, and people everywhere are scrambling to cash in," Ron Smith, the company's spokesman, said in a release.
"Just a small handful of gold can add up to hundreds of dollars very quickly," he continued. "I encourage everywhere to clean out their drawers, lock boxes, jewelry boxes and bring their items to our show."
The jewelry buying push reflects a competitor to established local operations that do similar events, like Lewis Jewelers and Antelope Antiques & Coins.
Experts have cautioned consumers against selling jewelry without becoming first educated on the process and typical prices.
Lizzy Alfs is a business reporter for AnnArbor.com. Reach her at 734-623-2584 or email her at lizzyalfs@annarbor.com. Follow her on Twitter at http://twitter.com/lizzyalfs.