Posted on
Mon, Apr 18, 2011 : 5:55 a.m.
Goldfish Swim School to add 40 jobs at new franchise in Ann Arbor
By Laura Blodgett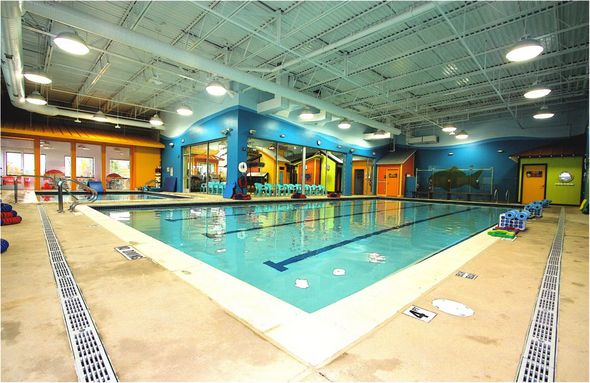 Courtesy photo
Goldfish Swim School will open its third location at 2107 W. Stadium Blvd. in Ann Arbor. Currently under construction, the 10,000-square-foot property is scheduled to open in August.
Catering to the small set, the program focuses on swim lessons for children ages 4 months to 12 years. Features include a 90-degree pool, a state-of-the-art water purification system, and a 4:1 student-to-teacher ratio.
The Ann Arbor franchise is co-owned by entrepreneurs Jack Barbat and Richard Simtob, who both have owned other franchises in the area. Barbat owns three wireless retail stores in Ypsilanti, while Simtob previously owned Talking Book World on Washtenaw Avenue and was part owner of the Wireless Toyz franchise.
He is currently one of the owners of Zoup! Restaurant System and the creator of www.franchisesforsale.com.
Goldfish Swim School was established in Birmingham in 2006 by husband-and-wife team Chris and Jenny McCuiston, an Olympic trials qualifier. The company opened its first franchise in 2009 in Farmington Hills. The schools currently teach an average of 1,500 students per week.
Simtob approached the McCuistons about buying the Goldfish Swim School franchise rights in Ann Arbor, where the property requires a minimum $1 million investment in order to build the pool.
"Ann Arbor is a growing community and a strong swim community," says Simtob. "Jenny comes from that background and has really been able to create a program that resonates with the community. We feel fortunate to be the second franchise. I think Ann Arbor is lucky. We're lucky. It's win-win for everybody."
Chris Thompson, a 2000 Olympic bronze medalist in the 1,500-meter freestyle, will be the general manager. Thompson is a former swimmer at Club Wolverine in Ann Arbor. The business will be looking to fill 40 positions for teachers, deck supervisors and counter help.
The pool will be 75 long by 28 feet wide and 4 feet deep throughout, which Simtob says is the perfect depth for adults to teach kids 12 and under.
In addition, the space will hold locker rooms, a small retail store, a snack bar and a climate-controlled viewing area.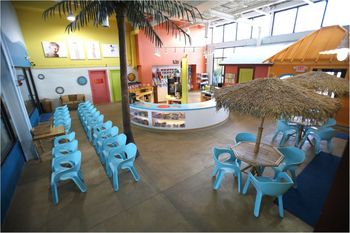 Courtesy photo
It took six months for them to find the location on Stadium, which appealed to them for its size, its large parking area and its position set back off the road. They worked with Neal Warling of Jones Lang LaSalle to find the space.
Located behind Ace Hardware and Arbor Farms Market, the vacant building previously housed Great Lakes Cycling & Fitness and smaller tenants, including a scrapbook store and a beauty school.
Attrition has happened over the last two years at the center as leases came due, and the bike store moved to Ace's former location on Stadium, which is also owned by Ted Barnes of Ace Hardware, says Max Goldman, leasing agent at Ludwig & Seeley, who serves as the broker for that property.
"We have been more selective about the tenants we are putting in the center in order to make the right deals when they come along," he says. "It took us a long time to make this deal, but it's a great opportunity for the center and for the franchise. And it's a perfect use for Ann Arbor."
He adds that having the school there will help in leasing the additional 14,000 square feet of available space to users that have the same customer base, such as a play area similar to Jungle Java or other operation.
"I strongly believe it will change everything back there," says Goldman. "It may take a year, but it will. There are a lot of good swimmers in Ann Arbor, the high schools all have great swim teams and this is an activity I think parents will support."
Though building a pool is a big cost commitment, it's not as difficult as it might seem, the owners say.
The franchise is handling the construction work on the facility, and Goldman says installing a pool is not such a long term risk that it prevented them from doing the transaction: "It's not terribly expensive to fill a pool, if it ever got to that juncture."
Design and construction is being done by T.S. Quatro in Ypsilanti. For more information on the company, visit www.goldfishfranchise.com.
Laura Blodgett is a freelance reporter for AnnArbor.com.