Posted on
Thu, Sep 30, 2010 : 2:33 p.m.
Google or Microsoft? University of Michigan will pick one
By Nathan Bomey
Google or Microsoft? It's a perennial debate among geeks and casual computer users alike.
Now the University of Michigan is poised to decide between the two. The university is assessing which technology giant offers the best online collaborative tools for its own needs.
(Apparently it's not enough for Google that its co-founder, Larry Page, is a 1995 U-M computer engineering grad.)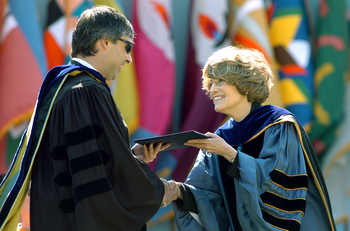 File photo | AnnArbor.com
The university is actively trying to determine whether to adopt collaborative digital tools offered by Google or Microsoft.
Those tools would at least partly replace more than 40 e-mail and calendaring systems the university currently uses -- which amounts to a complex network of information technology systems in an era where fast digital collaboration and communication is critical.
"It's very confusing," said Ed Adams, chief technology officer and director of computing services for U-M's Ross School of Business, and a member of the committee that will recommend either Google or Microsoft.

Microsoft officials visited campus Tuesday to demonstrate their productivity tools, including e-mail, calendar application, document sharing and mobile capabilities. Google is visiting U-M on Oct. 7 to do the same.
File photo | AnnArbor.com
Students, staff and faculty members have been invited to attend sessions where they can assess the offerings of both tech companies. And U-M plans to survey the entire campus in October to determine "which collaboration tools to select and what functionality is most crucial," wrote Lynn Johnson, chair of U-M's Unit IT Steering Committee and assistant dean of the School of Dentistry, in a campus e-mail.

"Our goal is to provide students, faculty and staff with a new generation of shared collaborative tools that will better serve learning, teaching and scholarly activities," Johnson wrote.

The project is part of an ongoing initiative called NextGen Michigan in which U-M is reassessing its entire IT infrastructure. The university believes it can cut its IT costs by 10 percent to 20 percent by shifting to so-called "shared services."

Google's Google Apps for Education and Microsoft's Live@edu service are free, but the university would incur labor and software costs to manage thousands of accounts.
Dan Atkins, chair of U-M's IT council and associate vice president for research cyberinfrastructure, said the university believes that new collaborative tools would offer cost savings. But more important, he said, is the improved ability for students, professors, administrators and researchers to communicate.
"It's ultimately driven by a combination of cost effectiveness, but more important than that, mission effectiveness," Atkins said. "How do we reduce barriers for collaboration?"
The university earlier this month acknowledged in an internal publication that many "individual faculty, staff and students already use many cloud services," a reference to e-mail, calendars and document sharing services offered by Google and Microsoft. ("Cloud computing" refers to IT functions in which an organization's data or documents are stored off-site in rented servers owned by outside companies.)
"In many respects, the campus will be catching up to what many individuals at U-M are already doing in both personal and academic realms," said Cindy Wells, U-M's deputy chief information officer, in U-M's University Record.
Universities already using Google Apps include Notre Dame, Northwestern and Brown. Locally, Saline Area Schools has adopted Google Apps. Microsoft's university users include the University of Missouri and the University of Pennsylvania. Eastern Michigan University uses Zimbra's MeritMail.
U-M's concerns -- much like those at private and public companies -- revolve around data security. Microsoft and Google will have to prove that U-M e-mails and research will be safe on their servers.
Contact AnnArbor.com's Nathan Bomey at (734) 623-2587 or nathanbomey@annarbor.com. You can also follow him on Twitter or subscribe to AnnArbor.com's newsletters.