Posted on
Mon, Mar 18, 2013 : 2:27 p.m.
Gov. Snyder's economic summit searching for answers as talented Michigan students search for jobs
By Ben Freed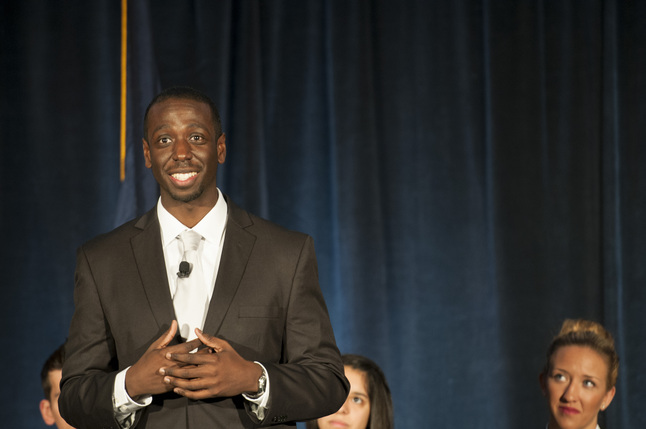 Tanya Moutzalias | MLive Detroit
Related:
Join our live chat for updates throughout the day.
"Gap" has been the word of the day at Governor Rick Snyder's first economic summit. But is there a "talent gap," a "skills gap," a "communication gap," or a "wage gap?" That all depends on who you ask.
The largest gap exists between the two counter-intuitive narratives that have emerged at the summit: employers cannot find talented workers to fill open positions, and young talented people who want to work in Michigan can't find jobs.
Governor Snyder set the tone for the conference by referencing both narratives during his brief opening remarks. He first spoke about the 60,000 unfilled jobs on the state's job search engine mitalent.org. He pointed out that if those jobs were all filled, it could lead to a 1.5 percent decrease in the state's unemployment rate.
With his next breath he said that Michigan's greatest resource is not its Great Lakes, but the people in the state. He then proceeded to bring 10 college seniors and recent graduates to the stage, who made "the elevator pitch of their lives" to the crowd.
The students were polished, poised, and professional, but somehow each of them was still struggling to find employment in Michigan. Leaving the session, the gathered business owners, economic development officers, and industry leaders were all wondering aloud how these people had not been hired yet.
"It's a communication gap," recent University of Michigan graduate Morgan Fett said.
"The dehumanizing of the hiring process has a lot to do with it. There are so many skilled and passionate youth out there who just can't make the connections they need to show how impressive they are."
Fett might have a point. Economist Paul Traub poked holes in the "skills gap" argument by noting that if there were a shortage of skilled employees, wages should have risen as demand outpaced supply. While there have been some modest gains in wages in Michigan, they have not been high enough to support this measure of skills gap.
Traub also said that employers expectations have been rising. They are looking for the perfect job candidate, not merely a qualified one. In his presentation, a slide noted that "companies just aren't willing to forgo profits and hire that next incremental employee."
"It's not a question of 'is there a talented workforce?' There is," ForeSee Results CEO Larry Freed said.
"It's not a question of quality it's a question of quantity. It's difficult to attract people from outside the state to Michigan right now and a lot of the young talent is leaving the state. The talented workforce is in high demand, and there's not enough of them."
One of the students who addressed the summit in the morning was Eastern Michigan University graduate student Scott Temple. He works in the claims department at the University of Michigan but is taking an internship at Ford Motor Company's HR department over the summer.
Temple gets to see both sides of the equation. As someone who has both submitted and reviewed resumes and applications, he says there's work that needs to be done by both job seekers and employers.
"On the seekers end, the gap is knowing how to work the system and structure your resume for the computer systems that a lot of companies use now," he said.
"People looking for jobs also need to take networking more seriously, and get involved with different groups and organizations with the express goal of meeting people."
That personal connection seems to be the key to finding a job in the state today. Not surprisingly the presenters who were most engaging on stage were the ones with the largest circles of potential employers jockeying to speak with them.
Temple said that for their part, companies do need to be less reliant on technology when it comes to finding the right people to hire. There are not enough human eyes that go over the resumes, but that it is made more difficult by the sheer number of applications that come in for every open position, he said.
"In business you always want to try to have less people doing more things," he said.
"That makes it more on the job seekers to take more risks to get their name out there, that's when you see people trip and fall right into an opportunity."
The state's economic leaders have an opportunity today and tomorrow to figure out what is keeping the state's talent from matching with its jobs. Maybe an entire summit is needed just to put college graduates in front of the state's employers and let them talk for 2 minutes each.
Also, if anyone is looking to hire someone in HR, I have a copy of Temple's resume. He wouldn't leave our interview with passing one off to me.
"You never know," he said. "Being too safe is the biggest risk you can take."
Ben Freed covers business for AnnArbor.com. You can sign up here to receive Business Review updates every week. Reach out to Ben at 734-623-2528 or email him at benfreed@annarbor.com. Follow him on twitter @BFreedinA2