Posted on
Wed, Nov 14, 2012 : noon
CEO Podcasts: Conversations on Economic Opportunity, Governor Rick Snyder
By Paul Krutko, SPARK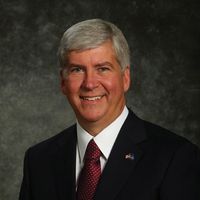 Governor Rick Snyder
Ann Arbor SPARK CEO Podcasts: Conversations on Economic Opportunity capture the flavor of my one-on-one conversations with over one hundred key economic leaders in the region, including private sector CEOs, elected and appointed public sector leaders, and the executive leadership of key non-profit and academic institutions. The podcast series is designed to not only highlight that expertise, but also make it available to others who could benefit from the wisdom those business leaders can share.
Rick Snyder was sworn in as Michigan's 48th governor on January 1, 2011. A Michigan native, Snyder has significant executive leadership experience, including serving as chairman and CEO of the computer company, Gateway. He also founded Ann Arbor-based venture capital and investment firms and an online health and wellness company.
He has been actively involved in economic development as well, having served as the first chair of the Michigan Economic Development Corporation. Governor Snyder, along with University of Michigan President Mary Sue Coleman, co-founded Ann Arbor SPARK in 2005.
In my conversation Governor Snyder, he discusses AnnArbor.com's Deals of the Year and three great Ann Arbor success stories, The Corner Brewery, Llamasoft and Barracuda Networks. The Governor also discusses the importance of Michigan talent and the quality of life and how the two benefit the state of Michigan. Hear how business, talent, and tourism connect with the Pure Michigan brand and boost the Michigan economy.
Check out more CEO Podcasts: Conversations on Economic Opportunity on the Ann Arbor SPARK website!