Posted on
Sun, Oct 7, 2012 : 5:55 a.m.
Great Harvest Bread in Ann Arbor under new ownership
By Brienne Prusak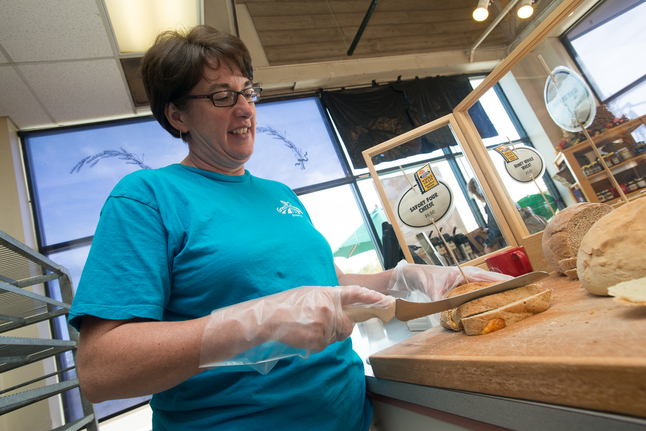 Courtney Sacco | AnnArbor.com
It's pretty much business as usual at the Great Harvest Bread franchise in Ann Arbor after the store recently changed hands.
Julie and Bob Messick of Brighton took over the business in Woodland Plaza on South Main Street last month after buying it from Dan and Janine Centurion, the original owners of the store.
After moving to Michigan from West Virginia two years ago, Messick said she began working at Great Harvest Bread in Brighton and quickly fell in love with the company's philosophy that focuses on fresh products and the chance for employees to grow and prosper.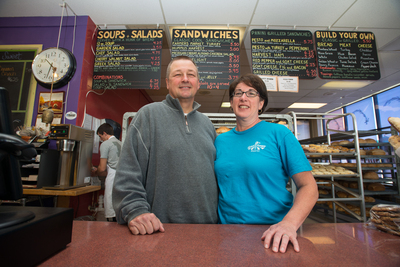 Courtney Sacco | AnnArbor.com
"We bought the franchise (in Ann Arbor) because we were familiar with Great Harvest Bread and the great work that they do. And it's a great product, so it was an easy decision," Messick said.
She added that she and her husband have a lot of freedom with the franchise and plan to add more coffee options in the future but are currently deciding when would be the best time to make that shift. They have also expanded Great Harvest's catering service throughout Ann Arbor.
After owning a pharmacy chain and a Christian bookstore in West Virginia, Messick said she and her husband are excited to continue working with a small business. "The appeal of Great Harvest Bread is of a small business rather than a franchise," she explained.
Dan Centurion said he and his wife were looking to retire now that their youngest daughter has started college. The sold it to the Messicks after owning it since June 1992 because they believe the Messicks will carry out their mission for the store.
He said they had talked with several people over the years about selling the business, but they didn¹t think those who showed interest fit Great Harvest Bread¹s mission. He said, rather, he wanted the franchise to be led by people who believe in small business and the products the company sells as much as he and his wife do.
"We just fell in love with the concept, the product and the people who were running the store," Centurion said.
He said he and his wife are excited for the Messicks to foster relationships with the entire staff.
"Selling to the Messicks was an enjoyable experience. It was really simple. We¹ve had a lot of fun with it, and the crew likes them a lot," Centurion said. "The Messicks extended offers to everyone who was working on the crew - everyone's still there."
Brienne Prusak is a freelance writer for AnnArbor.com. To reach the news desk, call 734-623-2530.