Posted on
Mon, Apr 22, 2013 : 2:59 p.m.
Great Shanghai Restaurant in Westgate closes
By Ben Freed
The space that once housed the Great Shanghai Restaurant in the Westgate Shopping Center is now available for lease.
The restaurant closed about one month ago when its lease expired. Employees at nearby stores said they saw furniture being moved out of the building but did not know why the buffet closed its doors.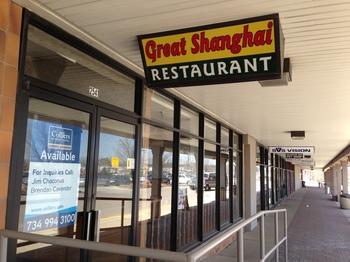 Ben Freed | AnnArbor.com
"Their lease was up, and they just weren't making any money,"
Jim Chaconas
of
Colliers International
said.
It's a situation affecting many Asian buffets, which became common a few years ago.
" It was just not a profitable business (model)," Chaconas said.
Another Asian buffet, the Hibachi Grill, closed in Pittsfield Township in December.
According to state documents, the restaurant opened in 2010. There was a buffet option as well as items available off the menu.
Chaconas, who is now looking to lease the property, said he has already fielded a number of inquiries about the space, but he his looking for a tenant that will mesh well with the other stores in the shopping center.
"We had a national dog food store say they wanted to come in, but we have a locally owned pet shop a couple of doors down, so we said no," he said.
"We also had a national tennis shoe store we said no to. We have a lot of local (businesses) here in Westgate, and we like them."
The space will rent for $14.50 per square foot or $20 per square foot if it is broken into multiple parcels. Chaconas said it would cost him more than $200,000 to split the restaurant.
"We've talked to some people about bringing in another restaurant here, and other people about a retail store," he said.
"... We just want to take our time and make sure we get the right fit for area and location."
There are two types of establishments Chachonas has already ruled out for the space.
"We're willing to look at another restaurant, but not a bar, and not another buffet," he said. "That's just a market that's not doing well right now."
Ben Freed covers business for AnnArbor.com. You can sign up here to receive Business Review updates every week. Reach out to Ben at 734-623-2528 or email him at benfreed@annarbor.com. Follow him on twitter @BFreedinA2