Posted on
Fri, Sep 16, 2011 : 11:23 a.m.
Groupon co-founder Brad Keywell at U-M: Government should 'get out of the way' of entrepreneurs
By Nathan Bomey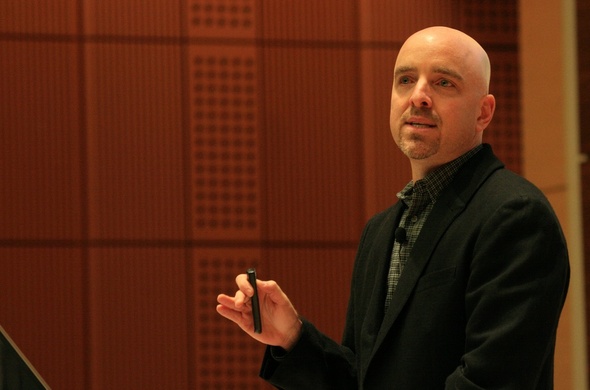 Photo courtesy of Kai Petainen
The U.S. government, American culture and news media are doing little to encourage startup companies, hastening the need for entrepreneurs to embrace risk,
Groupon
co-founder
Brad Keywell
said today in Ann Arbor.
Keywell, who earned bachelor's and law degrees from the University of Michigan in the early 1990s, returned to campus this morning to address a packed auditorium of students and business leaders at the Ross School of Business' Entrepalooza conference.
Keywell, a venture capitalist and entrepreneur credited as one of three co-founders of daily deals website Groupon, said that startup companies would help the U.S. dig out of its unemployment crisis.
"The question is where are we going to find the jobs that not only will save our country but pave our future?" he said. "Without getting too political, there's not much question about the fact that infrastructure jobs are not the key to our future. The keys to our future are new innovation, new entities."
His advice on how the government can help encourage entrepreneurs was simple.
"I'm not sure how much government can do other than get out of the way" as well as "be a big cheerleader" and "a connector," he said.
Keywell's speech at Entrepalooza, an annual event organized by the Zell Lurie Institute for Entrepreneurial Studies, comes as Groupon is nearing an initial public offering.
Analysts have reportedly valued the Chicago-based company in the range of $25 billion — a valuation that would make Keywell a billionaire on paper, according to documents filed with the SEC.
Due to SEC guidelines regulating the IPO process, Keywell said he had to limit his comments about Groupon "explicitly to what's already in the public domain."
Groupon, described by Forbes as the "fastest growing company ever," went from 37 employees in mid-2009 to more than 9,600 today, Keywell said. The company went from 152,000 subscribers and 212 merchant clients in one country two years ago to 150 million subscribers and 78,000 merchant clients in 45 countries today.
"The numbers speak for themselves," Keywell said.
One of the key lessons of Groupon's surge is that successful startups can take off with few resources.
"Groupon started on WordPress. WordPress is a free piece of technology," he said. "It does not take a ton of capital to start a great business. It takes a great business and execution."
Keywell displayed a distaste for a lingering distrust of entrepreneurial ventures.
"Our government and our media are extremely late to the game," he said. "While Silicon Valley grows, thrives and continues to create jobs and be a hotbed of innovation, the rest of us wonder where our jobs and mojo has gone. If you fail at business, the popular press, generally speaking, burns you at the stake. In Silicon Valley, the question is what's next?"
He added: "Underneath every failure is buried an opportunity. Some are immediate opportunities, some require investigation, but the opportunities are there. The question is whether you can see it."
Keywell had a high-profile failure of his own with a business called Starbelly.com, which he co-founded with lifelong business partner, Groupon co-founder and U-M grad Eric Lefkofsky. Starbelly took off, and the founders sold it to a public company called Halo Industries in 2000. But Halo went bankrupt soon thereafter.
"The bad news is Eric and I took largely stock in exchange for our founding shares in the company," he said. When Halo collapsed, "what I thought was $60 million quickly became next to zero. The question then became, how do you pay your bills?"
Instead of giving up on entrepreneurship, though, Keywell and Lefkofsky regrouped and found new opportunities. One of the companies they went on to found, a Chicago-based company called Echo Global Logistics, now employs 1,000 workers six years after it was launched.
"It's not win or lose in entrepreneurship. The real proposition is win or learn," he told the crowd of entrepreneurs. "The surest thing in life that you will experience is failure. "We need you to pave the path despite the fact that our government is not helping, and our society does not appreciate the risks you are taking.
"You will go through a series of challenges, of risks, of failures. You will ultimately be rewarded with success. … You hold the future to the vibrancy of our nation."
Keywell advised students to tap various resources at U-M to accelerate their path toward an entrepreneurial career.
"School wants to use you to achieve its ends," he said. "But my emphatic advice is for you to use your school for yourself. Mine your education for the tools you need to be an entrepreneur. Ask yourself, are you using your school and this wonderful city of Ann Arbor to help you explore opportunity and to learn and to explore risk?"
Contact AnnArbor.com's Nathan Bomey at (734) 623-2587 or nathanbomey@annarbor.com. You can also follow him on Twitter or subscribe to AnnArbor.com's newsletters.