Posted on
Sat, Dec 24, 2011 : 5:58 a.m.
Habitat for Humanity turns focus toward energy-efficient home renovations
By Lizzy Alfs
Jeff Sainlar | AnnArbor.com
When the housing market collapsed a few years ago, the nonprofit, volunteer-driven
Habitat for Humanity of Huron Valley
had to be innovative.
Rather than opting for new construction to provide low-income families an opportunity for affordable homeownership, in 2008 the organization turned to renovating foreclosed homes.
This year, H4H has renovated 15 foreclosed homes in Washtenaw County.
"It really makes a meaningful impact to turn around the houses that were foreclosed," said housing director Rob Nissly. "It helps an entire neighborhood."
Now, Habitat for Humanity is increasing its emphasis on energy efficiency to help reduce utility bills.
Over the course of about three months, Habitat works with a qualifying low-income family to renovate a home. The families make a down payment, and each adult contributes at least 300 hours of work for the program.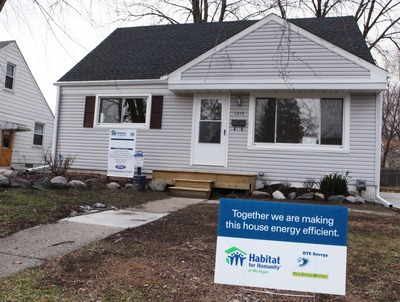 Jeff Sainlar | AnnArbor.com
Jeff Sainlar | AnnArbor.com
Sponsors and volunteers contribute work or supplies during those months, and hundreds of people spend thousands of hours working on each home.
The organization guarantees that the interest-free mortgage payment will be no more than 30 percent of a family's gross monthly income.
To help keep costs down for the families, Nissly said making the homes energy efficient is critical.
"When we talk about affordable housing and affordable home ownership, to be able to save $800 or $1,000 a year in energy, from now until forever, that's a pretty big difference in their lives," he said.
The Habitat houses — many of which begin as blighted properties — undergo extensive renovations, including repainting, and installing new flooring, electrical, fixtures and doors.
Habitat installs a new high-efficiency furnace, water heaters are replaced, energy-efficient appliances are donated by Whirlpool and all the light bulbs are switched to energy-saving compact fluorescent lights.
Nissly said Habitat also "attacks the houses from the outside" to make them more efficient.
This includes taking the siding off the house and blowing cellulose insulation — which appears as a big foam substance — into the walls.
Dow Chemical, one of Habitat's partners, provides blue board insulation that then covers the outside of the house. This is sealed with tape, covered with house wrap and then the siding is replaced.
"All those things together now create the equivalent of a thick wall that's filled with insulation," Nissly said. "All without having to disturb the dry wall inside."
Nissly said a Habitat family that used to pay $1,000 yearly in DTE Energy bills is now paying about $100 a year.
"Habitat is holding the mortgage," he explained. "These families are our partners for the next 20 or 30 years, and we only have so much money, so we have to figure out what's the best payback and how to do right by our families."
After analyzing the different building elements, Nissly provided the following estimations for energy savings:
--The Dow blue board insulation saves about $200 a year.
--The cellulose saves about $150 a year.
--Insulating foam that keeps the roof at a constant temperature saves about $600 a year.
With those characteristics, the homes that Habitat for Humanity renovates earn an Energy Star rating, meaning they meet the guidelines for energy efficiency set by the Environmental Protection Agency and the U.S. Department of Energy.
As Habitat for Humanity starts to wrap up the five houses that are currently being renovated this holiday season, Nissly said he's heard "really positive" feedback from neighbors and people in the community.
"Habitat is being seen in a much more favorable light than it's ever been, just because we've been able to take these foreclosed homes and turn them around," he said.
Lizzy Alfs is a business reporter for AnnArbor.com. Reach her at 734-623-2584 or email her at lizzyalfs@annarbor.com. Follow her on Twitter at http://twitter.com/lizzyalfs.