Posted on
Fri, Jul 19, 2013 : 3:30 p.m.
Habitat for Humanity's ReStore closes Jackson Road storefront and reorganizes warehouse
By Chelsea Hoedl
Melanie Maxwell | AnnArbor.com
Habitat for Humanity
's
ReStore
is hosting a grand reopening Friday, July 19 after closing its storefront and focusing efforts on reorganizing floor space in its Aprill Drive warehouse.
ReStore is a resale shop that raises funds for the organization that opened in 2006. It will no longer operate out of the storefront on Jackson Road. Instead, all merchandise will be located in the warehouse, 170 Aprill Drive in Scio Township.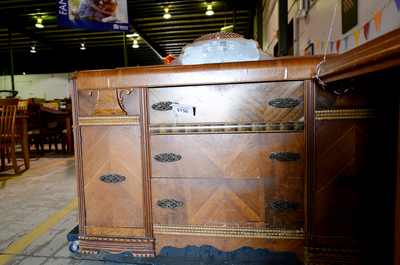 Melanie Maxwell | AnnArbor.com
"The idea was to make it more convenient for shoppers," ReStore Director
Vic Whipple
said. "The storefront and warehouse are literally 300 or 400 feet apart. We liked having some visibility on Jackson Road, but we never intended to keep the smaller shop open forever."
ReStore opened the storefront, at 3909 Jackson Road, as an extension of its warehouse in 2011 with the intention of increasing visibility and showcasing special items that were often lost in the large warehouse.
"We're always looking for ways to operate more efficiently so there is more net profit to support Habitat for Humanity," Whipple said. "When the new fiscal year started July 1 we decided the storefront had been open for a while and we could reinvent ourselves into a one-stop shop. Renting the store is no longer necessary."
The store, which offers 85 percent donated items and 15 percent new, retail items, closed July 1-4 to reorganize and remodel its warehouse.
"There was so much to do in terms of shifting our furniture and lighting sections," Whipple said. "But doing so allowed us to make better use of our space."
A portion of the 16,000-square-foot warehouse has been sectioned off to function similarly to the storefront and will showcase items of interest.
A grand reopening will be held Friday-Sunday in conjunction with ReStore's seventh anniversary in Washtenaw County.
The event will feature door prizes, free popcorn and pop and discount coupons. There will be a 15 percent off store-wide sale with the exception of a few products.
Net revenue from the ReStore is invested back into Habitat's homeownership program locally. The store relies on volunteers and donation of products and materials.
ReStore is open 10 a.m.-6 p.m. Monday through Saturday and 11 a.m.-3 p.m. Sunday.
Chelsea Hoedl is an intern reporter for AnnArbor.com. She can be reached at choedl@mlive.com.