Posted on
Fri, Oct 5, 2012 : 5:55 a.m.
They're baaack! Halloween superstores a sure sign of fall
By Laura Blodgett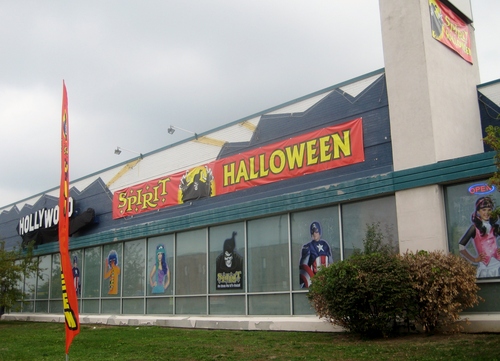 Laura Blodgett | AnnArbor.com
With the possible exception of football games and apple cider, nothing heralds the arrival of fall more than the reappearance of the seasonal Halloween superstores in Ann Arbor.
One store dedicated to all things spooky is Spirit Halloween, which opened in September for its second year in the former Hollywood Video site at 2019 Stadium. Spirit has been opening seasonal stores in Ann Arbor since 2006.
"It's basically a question of real estate availability," said Bob Burkhart, zone manager for Spirit in Michigan and northern Ohio. Spirit can open a seasonal store just about anywhere, he said, "if there is an empty storefront we like that is available and big enough to suit our purposes."
The Stadium location is appealing not only for its large size but for the amount of traffic that goes by on U-M football Saturdays, he added.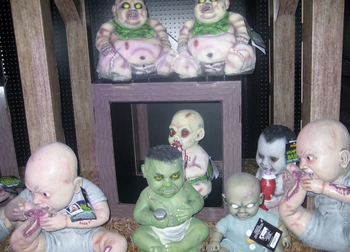 Laura Blodgett | AnnArbor.com
Part of the fun of visiting a Halloween store like Spirit is the electronic displays that feature ghoulish and sometimes funny animatronic figures. This year, the store houses a haunted barn with a
spitting werewolf
and a "zombie terror mill" with a water feature.
"You could put a step-pad activation under your doormat, and when people step on it, (the animatronic figure) jumps out at people," said Lisa Barr, senior director of marketing for Spirit Halloween at its headquarters in New Jersey.
Some of this year's animatronic figures take advantage of the zombie craze, including a zombie baby who eats his own foot and the little girl zombie from AMC's television show "Walking Dead," which buzzes around on a robotic vacuum cleaner-like base.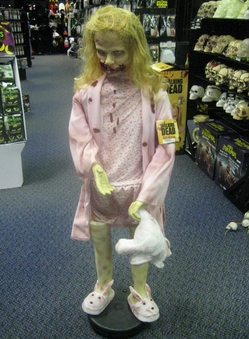 Laura Blodgett | AnnArbor.com
"Zombies are a great costume for the family," Barr said. "Mom, Dad and the kids can all dress in costume and be a zombie family."
Spirit claims to have predicted the incoming president each election year since 1996, based upon which candidate's mask has higher sales. "It's still too early to call, but so far I can tell you Obama is leading at 69 percent," Barr said.
Spirit is hiring right now and will have as many as 30 people on staff by the peak of its season - the weekend before Halloween. Applications can be filled out online.
Other Halloween stores in the Ann Arbor area include the year-round Party City store on Ann Arbor-Saline Road and the seasonal Halloween City store at 227 N. Maple Road, in the former Hancock Fabric location. Fantasy Attic Costumes in Ypsilanti's Depot Town is another year-round store that also sells Halloween merchandise.
With Halloween falling on a Wednesday this year, the Spirit Halloween store will stay open until Saturday, Nov. 3, with sales of 50% off starting Nov. 1.
Then, like a ghost, "we pack it up and disappear until next season," Burkhart said.