Posted on
Fri, May 17, 2013 : 5:58 a.m.
Hands-On Museum's TechTwilight event connects kids with emerging technology from local companies
By Ben Freed
Science fairs are often nerve-wracking affairs for middle schoolers. But Friday night at Ann Arbor's Hands-On Museum, the students will get a chance relax and enjoy a reverse science fair where local companies will present their own science and technology projects.
The TechTwilight event will showcase displays from approximately 30 local companies who will "compete" for the attention of attendees and "prizes from celebrity judges.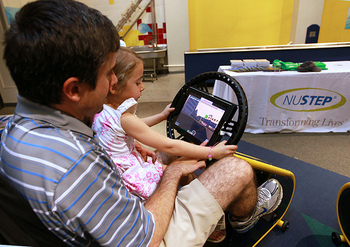 Courtesy Hands-On Museum
Event chairwoman Megan Torrance, who is also the owner of Chelsea-based online training company TorranceLearning, has brought her company to the event every year since it began five years ago.
"It's one of the most fun things we do as a team," she said.
"We all get together, we put together the display and try to explain what we do in regular terms that kids and their parents can understand. And then it's great for us because we get to see how real people interact with what we're making."
The event challenges companies that normally make complex products to make their innovations accessible for a younger audience.
"My company taught Dow Chemical employees how to do marketing, but that's pretty boring for a middle schooler," Torrance said.
"So what we're bringing is an electric composter we have in our office and a fun e-learning course we developed on how to use it."
The night is aimed toward the younger crowd, but Torrance said that doesn't stop the tech companies from networking and having a good time themselves.
"It's great team building for companies because we get work together on a project and then go out and present it and see what a lot of other cool companies in the area are doing," she said.
"And we get to goof off in a science museum at night which is really fun."
The event also helps create a sense of community between two pillars of Ann Arbor's ecosystem, local technology companies and the non-profit community.
"We call it a 'friendraiser,'" Torrance said. "It's a way of connecting companies to the museum and the Ann Arbor community in a way that wouldn't otherwise occur to us in the business community. Once we're connected, then we end up doing really cool things."
One past participant, SRT Solutions, built educational video games to donate to the museum and Google donated a "liquid galaxy" exhibit that the company had previously been primarily displaying at internal offices and technology conferences.
The event also helps to bring students back to the museum who may have "graduated" and not visited in a while. Torrance said Hands-On is often looked at as a place for early elementary school students or toddlers, and some middle and high schoolers might think they've grown out of the exhibits.
"It's great for them to reconnect with science and see things that really engage them again," she said.
In addition to the company displays, science clubs from local high schools will display some of their most eye-catching projects at the event.
TechTwilight will take place from 6:30 to 9 p.m. Friday night May 17 at the Hands On Museum on East Ann Street. Participants are asked to register in advance at www.techtwilight.org. The event costs $10 per person.
Ben Freed covers business for AnnArbor.com. You can sign up here to receive Business Review updates every week. Reach out to Ben at 734-623-2528 or email him at benfreed@annarbor.com. Follow him on twitter @BFreedinA2.