Posted on
Tue, Nov 29, 2011 : 5:58 a.m.
Michigan's Hantz Bank opens branch at former credit union in Ann Arbor
By Julie Edgar
Michigan-based Hantz Bank opened its third branch southeast Michigan at a former credit union building in northern Ann Arbor.
The bank is a division of Southfield-based Hantz Group Inc., which bought a 22,000-square-foot building at 2400 Green Road formerly owned by Ann Arbor-based Midwest Financial Credit Union, which was acquired by Dearborn-based DFCU Financial earlier this year. Hantz shifted its Ann Arbor office from a building near Briarwood Mall to the Green Road facility.
Hantz Group, founded and operated by John Hantz, offers casualty insurance policies, financial planning services, health benefit and retirement plans for companies, estate planning and tax services.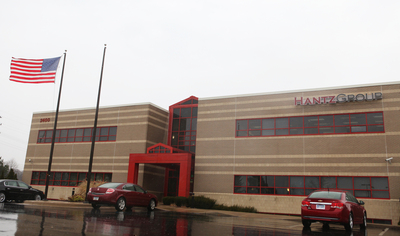 Jeff Sainlar | AnnArbor.com
With the bank inside, it's a "one-stop shop" that allows individuals and small businesses to apply for loans, open a checking account, get retirement advice and do their taxes, said bank President David Lamb.
With the new bank branch, Hantz employs 50 workers at the Ann Arbor location, including five newly hired by Hantz Bank.
Lamb agreed that "micro banks" like Hantz are positioned well in the marketplace, given the general mood of distrust of mammoth financial institutions.
"The last meltdown was an eye opener for a lot of businesspeople about their actual relationship with banks," he said. "I think they thought there was more of a relationship when things were super uncertain. That has really benefited all the small banks. We're selling a service, you can talk to us. You don't have to call Cincinnati or Chicago. People are receptive to that.''
When John Hantz, who is also CEO of Hantz Farms LLC, which aims to create the world's largest urban farm in Detroit, decided to enter the banking sphere, "we bought the smallest bank we could," Lamb said, referring to a bank in Davison, Mich.
"We spent the first year — from May 2010 to April 2011 — basically making sure the bank was stabilized, working on problem loans it had," he said.
Lamb said one of Hantz Bank's priorities will be providing small business loans and working with small business customers.
"That is our core philosophy: Not only can we establish a relationship with them, but help them on other aspects like personal assets. We're really a one-stop shop for small businesses,'' Lamb said.
Lamb started Hantz Bank in the former Davison State Bank in northern Oakland County. Branches are planned in Southfield, Taylor, Tecumseh, Romeo and, eventually, Detroit. Hantz Group has 18 operations in Michigan — and Lamb says bank branches will ultimately collocate in 10 of them.
Hantz Bank has been able to grow fast because it moves into markets already staked out by the Hantz Group. The customer base is already there.
"We know we have 100 people a week who are coming in to talk about finances. A lot of banks don't get that much traffic each week," Lamb said. Plus, it's cheaper to rent space within a larger space, he said.
Ann Arbor is key to the company's growth because its economy is relatively vibrant, the entrepreneurial spirit is robust, and the Hantz Group has a solid clientele in the area, Lamb said.
The bank is also offering a special checking account for Ann Arbor residents that doesn't require a minimum balance and allows the use of up two ATMs per month at no charge, said Sherry Lawfield, vice president of retail operations.
Julie Edgar is a freelance writer for AnnArbor.com.