Posted on
Sun, Dec 26, 2010 : 6 a.m.
Ann Arbor's HealthMedia eyes opportunities as study shows software promotes health care cost savings
By Nathan Bomey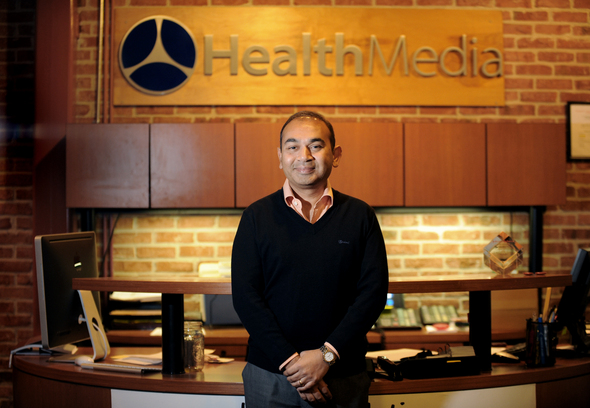 Melanie Maxwell | AnnArbor.com
Ann Arbor-based
HealthMedia Inc.
is armed with new data showing the direct cost benefits of its digital health coaching software as laid out in a 5-year study involving chronic disease patients.
The data comes at a good time as the firm plans to pursue new market opportunities under its new president, longtime Johnson & Johnson executive Sanjay Gupta, who took over the J&J subsidiary in August. Gupta succeeded former HealthMedia President Ted Dacko, who was credited with turning the company into a huge success.
Gupta said HealthMedia is positioned to capitalize on policymakers' interest in disease prevention and wellness. HealthMedia's software helps people make healthy lifestyle decisions.
"My job is to identify those unique opportunities to accelerate our growth while developing true talent for the organization," Gupta said. "HealthMedia has a demonstrated track record of growth. It's a success story. Our focus is to continue that growth, so the simple way I look at it is if I enable my customers to grow their business, then we will grow with them."
HealthMedia's own health is of keen interest to Ann Arbor's entrepreneurial community. With about 150 to 200 employees and contractors in Ann Arbor - J&J won't say exactly how many - the firm is one of the region's top software employers.
But more than a decade since its founding, the company is less of a startup and more of a corporate arm of J&J, which acquired the University of Michigan spinoff in late 2008 and said it would serve as a launching point for a new wellness division.
Gupta said one of his goals is to maintain HealthMedia's innovative startup culture, and he offered his assurance that the company is committed to Ann Arbor. J&J has consistently said that it plans to grow HealthMedia's presence in Ann Arbor.
Gupta suggested that his own move to HealthMedia is an indicator that the company isn't going anywhere. He moved his family to Ann Arbor from New Delhi, India, where he was coordinating the emerging markets strategy for J&J's Vision Care franchise in Asia Pacific.
"You can never predict the future, as all of us know, but very clearly we strongly feel that we have the right talent pool that we can tap into, we have a history and we have been successful being here," Gupta said. "So I don't see a reason why we would even remotely (consider) moving from here."
From its headquarters on First Street in downtown Ann Arbor, HealthMedia has maintained "steady growth both financially and from an employee standpoint," said Caren Kenney, the firm's director of communications.
Study results show cost savings
The firm stands to benefit from a study published in the American Journal of Health Prevention illustrating the cost savings when chronic disease patients use HealthMedia's software.
The study, conducted with Blue Cross Blue Shield's Highmark insurance plan, followed 939 chronic disease patients who used HealthMedia's software. The study found that health care costs associated with those patients fell $757 per person compared to chronic disease patients who did not use the software.
The software helped produce a 35 percent uptick in flu shots, a 34 percent increase in fecal occult blood testing, a 16 percent increase in PAP smears and a 12 percent increase in mammograms.
"Innovative methods for empowering patients to take greater responsibility for their health are currently available, and evidence is beginning to support the clinical and cost effectiveness of these methods," the report concluded.
"Technologies such as this must continue to be developed, tested and -- where effective -- exploited if we are to address the mounting health care challenges related to chronic disease management and cost containment."
In an era defined by massive increases in health care costs, technology that lowers the cost of health care is viewed as extremely valuable. That, indeed, is what attracted Johnson & Johnson to acquire HealthMedia in the first place. J&J was a customer of HealthMedia before it bought the company for an undisclosed sum.
Reducing the cost of health care with a focus on wellness and disease prevention is a major priority for policymakers on both sides of the political aisle.
The U.S. Centers for Disease Control and Prevention estimate that more than 75 percent of health care costs are attributable to chronic diseases, including heart disease and diabetes.
HealthMedia and Rick Snyder
Governments and companies that provide health care insurance to their employees are turning to software that helps health care providers and patients avoid chronic diseases. HealthMedia's existing customers include state governments and companies like eBay and Aetna.
The state of Arkansas, for example, adopted HealthMedia's software for public employees and said it led to "productivity savings of $2,300 per employee."
Whether the state of Michigan will embrace HealthMedia's lifestyle management software is a particularly intriguing possibility considering that Rick Snyder, Michigan's governor-elect, co-founded HealthMedia a decade ago.
In his venture capital days, Snyder liked to tell the story about how he instantly recognized the potential of HealthMedia's technology after a short meeting with co-founder and U-M professor Victor Strecher.
Whether that enthusiasm could translate into a contract to provide software for the state of Michigan's public employees is pure speculation.
Bill Nowling, a spokesman for Snyder's transition team, said in a recent interview that health care software was an important element of lowering health care costs and that the state needs to adopt "best practices from the private sector."
HealthMedia, he said, is an example, "but there are other ones that can provide efficiencies and economies of scale that can utilize new technologies that address the problems that we have."
Gupta said he would "pursue opportunities in this state as I will in any state," but he's quick to say that Snyder's political ascension "doesn't affect us."
In fact, he's never even met Snyder, who reaped a windfall when the firm was sold to J&J in 2008 but no longer owns the company.
"We don't want any favors," Gupta said. "We want to win business on our merits."
Contact AnnArbor.com's Nathan Bomey at (734) 623-2587 or nathanbomey@annarbor.com. You can also follow him on Twitter or subscribe to AnnArbor.com's newsletters.