Posted on
Tue, Mar 12, 2013 : 5:12 p.m.
Herb David Guitar Studio closing after 50 years in downtown Ann Arbor
By Lizzy Alfs
Joseph Tobianski | AnnArbor.com file photo
Herb David Guitar Studio
on East Liberty Street in downtown
Ann Arbor
will close just days shy of its 51st birthday,
Andrea David
, Herb's wife, said on Tuesday.
The store at 302 E. Liberty St., which has sold and repaired a wide range of string instruments for over half a century, will close on March 31.
"Herb is retiring," Andrea told AnnArbor.com on Tuesday evening.
David first opened the studio in 1962 in the basement of Bob Marshall's book store on State Street. The business moved to its location in a house on the corner of East Liberty Street and South Fifth Avenue in 1982.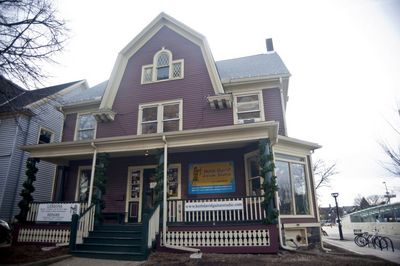 Joseph Tobianski | AnnArbor.com
Over the years, the studio built a national reputation as it served as a local gathering place for music lovers. David and his staff taught musicians of all ages and skill levels, and also sold and repaired instruments. He also made an effort to give back to the community by sponsoring free concerts and other events. Several employees have worked at the studio for more than a decade.
David told AnnArbor.com in December 2012 that the closure of Fifth Avenue during the construction of the underground parking garage led to a 50-percent drop in sales, although lessons and repair business held steady. At that time, he said, the business returned "little-by-little" as traffic on the street was restored.
Andrea David said there will be a large sale before the studio closes at the end of March. Because Herb owns the downtown building, Andrea said they are considering leasing the space, but will announce official plans in coming weeks.
Andrea added that the couple would thank their customers.
AnnArbor.com reporter Ben Freed contributed to this report.
Lizzy Alfs is a business reporter for AnnArbor.com. Reach her at 734-623-2584 or email her at lizzyalfs@annarbor.com. Follow her on Twitter at http://twitter.com/lizzyalfs.