Posted on
Sun, Dec 11, 2011 : 5:59 a.m.
'Natural' toymaker finds success in Ann Arbor (minus the plastic, commercial, digital toys)
By Janet Miller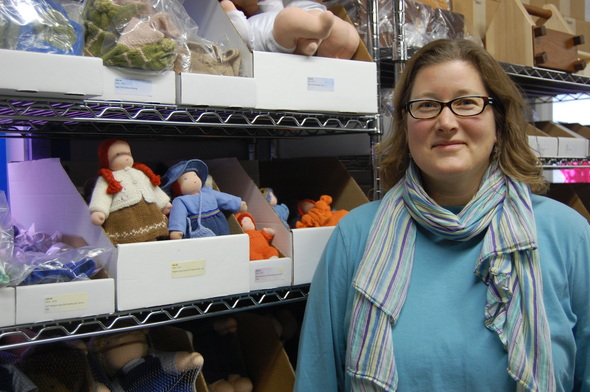 Janet Miller | For AnnArbor.com
Adjacent to the railroad tracks on
Felch Street
a few blocks from
downtown Ann Arbor
, off of a pot-holed parking lot and through a single white door marked only by a narrow wooden sign hides a wonderland of toys.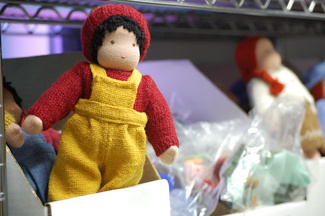 Janet Miller | For AnnArbor.com
Soft dolls with yarn hair and alpaca sweaters, hardwood helicopters, kits to make tepees fill the tight space of
Camden Rose
and
Palumba
. The rush that comes from Christmas makes it feel like Santa's workshop. The holiday season sees sales quadruple.
Still, the warehouse and storefront are out of sight. "Most people don't know we're here," said owner Judy Alexander, "but they're so glad when they find us."
There is no plastic here. No videos games or action figures. No Ninjas or Barbies or Let's Rock Elmos. Instead, it's dolls made from wool felt, yo-yos fashioned from fine wood, flowing silk scares that turn little girls into princesses and play kitchens made from cherry, curly maple and walnut.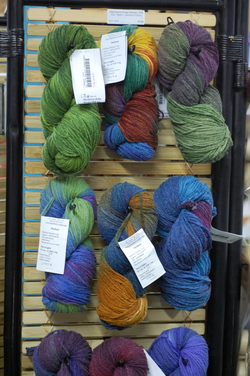 Janet Miller | For AnnArbor.com
Palumba is the company's retail name, Alexander said, while Camden Rose is the manufacturing side, which produces more than 200 eco-friendly products: wooden toys and teethers, play kitchens, play food knotted from wool yarn, and play household items such as a cherry wood ironing board and a maple washboard. They also make Waldorf toys. Palumba, which sells to online and brick and mortar locations, has a small Ann Arbor storefront for retail operations.
Palumba sells Camden Rose products along with lines from other suppliers, some of them cottage industries, offering close to 2,000 items. Alexander's wholesale base includes 240 outlets, from a small doula company to a regional California chain.
These are high-end toys. The top-selling simple hearth kitchen retails for $350. But that hasn't stopped sales from growing every year, even with the uncertain economy, as parents and grandparents jump aboard the eco-friendly movement. "People are more aware of what they're buying, they're more aware of natural items," Alexander said. The warehouse/retail space has doubled to 2,000 square feet, Alexander said.
All but a few of the toys here are made in the United States and all are made of natural materials, Alexander said. A handful of items come from Canada or from a women's cooperative in Peru, with their woolens such as baby blankets coming from Europe.
Camden Rose has grown every year since founder Jason Gold started it eight years ago. While Alexander ran the Palumba end of the business, then called Arbor Kids, the two merged and Alexander became sole owner five years ago. Palumba outpaces Camden Rose in terms of sales volume, and 90 percent of Palumba's sales come from outside of Ann Arbor, with sales as far away as Australia and Qatar.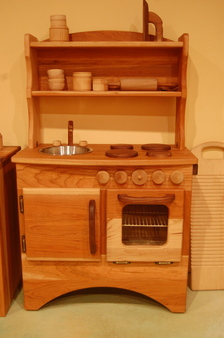 Janet Miller | For AnnArbor.com
Caroline Dimmers lives in Hastings, two hours west of Ann Arbor, but was in town recently for a doctor's appointment. When her daughter, who lives in Seattle, heard that her mother was coming to Ann Arbor, she asked Dimmers to make a stop at Palumba.
Alexander said Camden Rose and Palumba were a response to not being able to find safe, non-toxic and natural toys for her young children. "I buy organic food so why not buy organic things for my home," she said. "But I couldn't find anything locally. I didn't want plastic dolls. Plastic dolls don't warm to the touch. Our dolls feel good when you hold them."
She expects her companies to continue to grow and plans to continue introducing new products. The companies have four part-time employees, which become full-time during the holidays.
Locally, Camden Rose products are sold at Palumba as well as Downtown Home and Garden and Lexi's Toy Box.
Janet Miller is a freelance reporter for AnnArbor.com.