Posted on
Thu, Aug 2, 2012 : 5:59 a.m.
High-end apartments, condos proposed for top of historic downtown Ann Arbor building
By Lizzy Alfs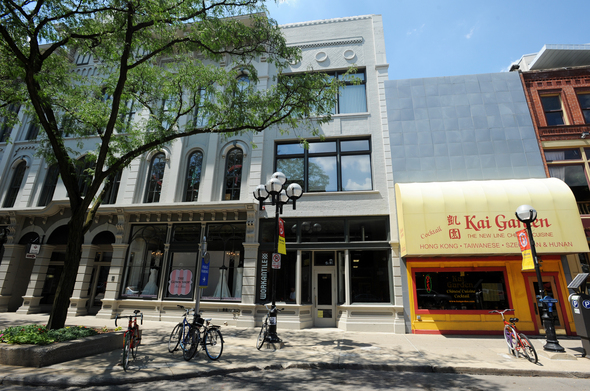 Melanie Maxwell | AnnArbor.com
Envisioning strong demand for high-end condos and apartments in downtown Ann Arbor, a local developer recently proposed adding two floors to the top of one of his historic buildings.
Ed Shaffran of Ann Arbor-based Shaffran Companies submitted preliminary plans to the City of Ann Arbor to construct two floors — totaling 12,800 square feet — to the top of the Goodyear building, located on the corner of East Washington and South Main Streets.
The proposal comes amid a wave of new housing construction in downtown Ann Arbor.
Residential high-rises like The Varsity, Zaragon West, Landmark and Ann Arbor City Apartments will bring thousands of new bedrooms to downtown in the next two years. Another housing project, 618 South Main apartments, was recently approved by Ann Arbor City Council.
But unlike these developments, Shaffran's plans would add residential units to the top of an existing building and would include a mix of apartments and condominiums.
The plans call for six to eight apartments and five to six condominiums on top of the three-story building, which was first constructed in the 1860s.
"We've looked in the past to add to an existing building, and our first attempt, although meager, was about 10 years ago when we looked at adding a single floor to the Goodyear building," Shaffran explained.
He added: "We've been looking at high-end, or upper-end residential developments in the downtown…we feel the time is now."
Shaffran has already pioneered several loft developments in downtown Ann Arbor, including units at 306 S. Main St., 209-215 S. Fourth Ave. and 120 E. Washington St. He also owns lofts at 1012 Pontiac Trail in the former Suzuki Technical Center.
He owns the Pretzel Bell building on East Liberty Street and the People's Food Co-op building on North Fourth Avenue, among others.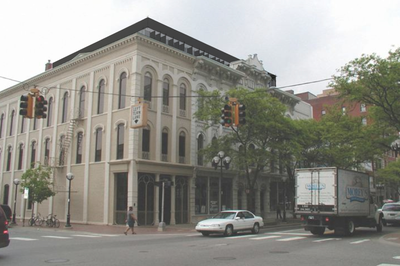 Photo courtesy of Shaffran Companies
He said he's been looking for more than a year to find another residential development site in downtown.
"We've been working with a handful of folks over the last year or two in a variety of projects to build loft apartments or loft condos downtown," he said. "We've not been able to find the right site; we've looked and looked and looked. We thought the easiest thing might be just to add to our own building."
The plans for the Goodyear building — which are still in the preliminary stages — are limited to a 12,800-square-foot addition because it's in the city's D1 zoning district and also in the Main Street Historic District.
The addition also should not detract from the existing historic building, said City Planner Jill Thacher, which is why Shaffran plans to have the additional floors set back from the front of the building.
Thacher said the development also must be distinctive from the original building.
"(It needs to be) clear that the addition was not built when the building was built…you have to make sure you can distinguish it was built in 2012 and not 1912," she said.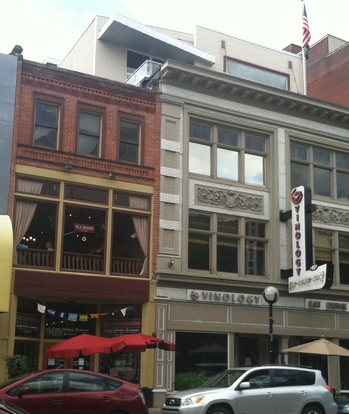 Lizzy Alfs | AnnArbor.com
According to Shaffran's plans, each additional floor would total 6,400 square feet and the addition would be set back from the front of the building.
He said the condo units would probably be on the fourth floor with terraces, and the apartments would be located on the fifth floor.
"It's a pretty simple structure," Shaffran said. "Probably most folks really won't notice it from the street."
Thacher and Shaffran both cited Fred Beal's condominium development above Vinology on South Main Street as a guideline for the Goodyear project. That condo is set back and hardly visible from parts of Main Street.
Shaffran said he has not set any price ranges for the residential units, but after having discussions with people interested in downtown condos, he said he's working on incorporating some of the amenities of larger residential developments.
That potentially includes a small fitness center and an efficiency unit for guests, he said.
He said the project, if approved, would not disrupt current tenants in the Goodyear building aside from construction noise. Tenants include The Gown Shop, Workantile, Ann Arbor State Bank and more than a dozen offices.
Shaffran is working with Michael Corby of Grand Rapids-based Integrated Architecture on the project.
Thacher said the plans will first be reviewed by Ann Arbor's Historic District Commission at its August or September meetings. Plans would then go before Ann Arbor's Planning Commission and require approval from Ann Arbor City Council.
Lizzy Alfs is a business reporter for AnnArbor.com. Reach her at 734-623-2584 or email her at lizzyalfs@annarbor.com. Follow her on Twitter at http://twitter.com/lizzyalfs.