Posted on
Thu, Jan 28, 2010 : 2:25 p.m.
High-speed rail grants include $244 million for Detroit-to-Chicago Amtrak improvements
By Nathan Bomey
Ann Arbor's Amtrak station won't get renovation dollars from federal stimulus money awarded today, but travelers who take the train to Chicago may see improvements in the service.
President Barack Obama today is announcing the distribution of $8 billion in economic stimulus grants to invest in high-speed rail initiatives and various rail projects. The funding comes from the federal government's $787 billion American Recovery and Reinvestment Act.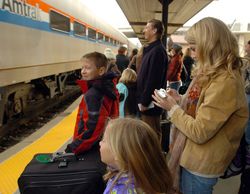 The Department of Transportation said today that it would spend $244 million to upgrade the Detroit-to-Chicago Amtrak service, commonly called the Wolverine Line, which stops in Ann Arbor.

The funding may improve the chances of turning the line into a high-speed rail corridor in the future, but it won't lead to significant changes immediately.
U.S. Rep. John Dingell, D-Michigan, greeted the news with a mixed reaction.

"Today's commitment of $40 million in high-speed rail funding for Michigan is a step forward, however, it falls short of jump-starting the Detroit-to-Chicago corridor as envisioned by the Midwest Regional Rail Initiative," Dingell said in a statement. "Detroit-to-Chicago can never be a reality without investment in rail that can support high-speeds. I urge the Obama Administration and Secretary LaHood to continue to work with the Midwest, one of the most economically depressed regions in the nation, on developing this critical piece of infrastructure and creating jobs where they are needed the most."

The funding includes:
• $40 million to renovate the Troy and Battle Creek stations and construct a new station in Dearborn.
• $133 million for various upgrades along the route, including approach bridges and retaining walls.
• $71 million to fund signal system improvements and other minor upgrades designed to speed up train service slightly.
Michigan's Department of Transportation had requested some $800 million in rail grants from the stimulus package.
Economic development officials and business leaders believe a high-speed rail system from Detroit to Chicago could create jobs and economic activity. But creating such a system is likely to cost billions of dollars and involve a variety of sticky political hurdles, including negotiations with freight train companies.
Among the biggest winners were projects connecting San Francisco and Los Angeles ($2.25 billion); Tampa and Orlando ($1.25 billion); Chicago and St. Louis ($1.1 billion); and Milwaukee and Madison ($810 million).
U.S. Transportation Secretary Ray LaHood wrote in a blog post that the grants are necessary to pave the way for future investments.
"These efforts on existing routes and emerging corridors will lay the groundwork for future high-speed and intercity rail development," LaHood said.
More coverage from other news sources:
Los Angeles Times: Obama to announce $8 billion in grants for high-speed rail

Detroit Free Press: 3 Michigan stations to get funds

Sacramento Business Journal: California gets $2.25 billion for high-speed rail
Boston Globe: New England receives 2 percent of high-speed rail funds
Associated Press: $1.1 billion for Chicago-to-St. Louis project
Miami Herald: Florida project big winner in rail announcement
Dayton Daily News: Ohio wins $400 million

Contact AnnArbor.com's Nathan Bomey at (734) 623-2587 or nathanbomey@annarbor.com. You can also follow him on Twitter.