Posted on
Fri, Aug 27, 2010 : 5:59 a.m.
Game on: Arcade with high-tech laser tag planned for downtown Dexter
By Julie Edgar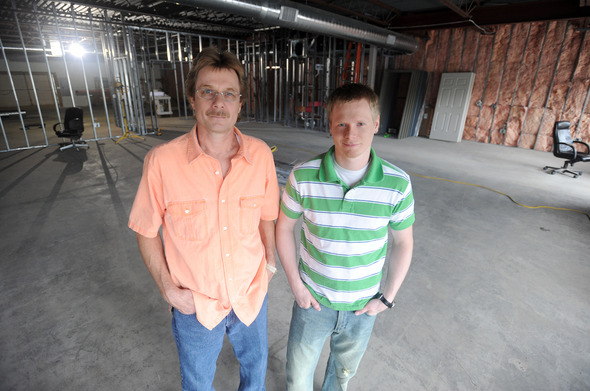 Angela J. Cesere | AnnArbor.com
A new arcade featuring high-tech laser tag is not only aiming to offer fun for all ages but it's also a family affair.
Lazer Planet, an arcade that will feature one of the few LaZer Runner laser tag games in Michigan, will open by the end of September at 3219 Broad St., sharing space with a Cottage Inn, Snap Fitness and Simpson Family Chiropractic.
The low-slung building once housed Busch's market, which outgrew the space and moved to a new building nearby. It was carved up and renovated for about $1 million, says Dexter Realtor John Evans of Swisher Commercial, which is leasing 4,500 square feet to Absolute Fun Inc., a company operated by Gary Ouillette of Webster Township.
Ouillette, 52, is a former automotive technician for Ford Motor Co. His brother Mark also worked in the car industry before plunging into the entertainment business after seeing an old IGA grocery store converted quite successfully into an indoor go-cart track. Gary followed, finding he had a talent for building and repairing the video games.
For the past 7 years, Ouillette has been managing his brother's operation, the Great Escape, in Howell, and operating the arcade games area under Absolute Fun.
"I started the gaming thing right away. We were leasing a lot of stuff up there, and that's not always the best way to go. I started building my own equipment up there. I'm always buying new games and selling. I try to keep things fresh," he says.
Ouillette's wife, Cherie, and son, Joe, will help run Lazer Planet. Ouillette says he'll employ about 10 people in all.
Along with an array of ticket-redemption video games and rooms for birthday parties and fundraisers, the centerpiece of Lazer Planet is laser tag, a game in which competitors in colored vests zap each other with laser "guns." Sensors on the vest indicate a "hit" that's recorded and scored by computer.
The LaZer Runner is made by a Canadian company of the same name. It features a glow-in-the-dark maze, a big structure that players work around to get to the other team's base. According to the company's product description, the system employs actual laser beams, so it's more accurate, it keeps score in real time, and uses wireless radio frequency transmission.
Lazer Runner is also multi-functional, so various games can be played with it. The cost is $7 for 15 minutes of play.
Ouillette, who says he has invested about $300,000 in Lazer Planet, expects to attract gamers from Ann Arbor, Brighton, Pinckney and Howell.
"We've got a large demographic," he says. "My biggest crowd is going to be from 9 to 15, but in reality, everybody plays this."
Julie Edgar is a freelance writer for AnnArbor.com