High tech veterinary care available at Animal Regenerative Care Center in Chelsea
Posted on Tue, Jun 14, 2011 : 5:56 a.m.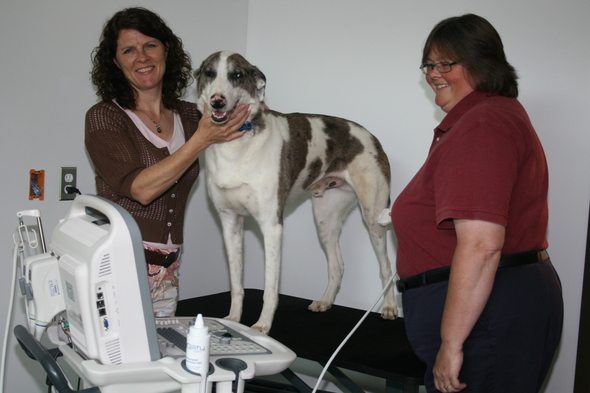 Lisa Allmendinger | AnnArbor.com

Joker, a 7-year-old, Australian shepherd cross, was the first stem cell patient of Chelsea veterinarian Anne Hale.

At a young age, the friendly, high-energy caramel-colored dog began suffering from chronic hip pain and after a year of anti-inflammatory treatments that kept escalating to relieve the pain, Hale decided to try something new. She harvested his stem cells and injected them back into the troublesome hip joint.

In one treatment, combined with proper diet, rest and a physical therapy regime that strengthened his muscles, Joker was able to cavort about without a limp and was drug-free.

That was in 2007, and today, Joker maintains the busy lifestyle of a normal active dog as the recipient of a new field of veterinary medicine that uses regenerative therapies - either blood platelets or stem cells depending on the ailment - to heal chronic disease and traumatic injuries.

Stem cells can be harvested from the bone marrow of the breast bone or pelvis of a horse or the pelvis or either long arm bone in dogs and cats. It can also be harvested from belly or shoulder blade fat but either way, the harvesting is done in a sterile environment under sedation.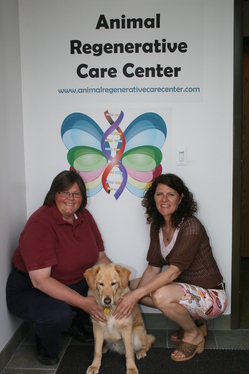 Lisa Allmendinger | AnnArbor.com
Cellular technologies are currently being used on horses, cats and dogs for diseases such as arthritis, liver and kidney disease, ligament and tendon injuries and immune problems such as lupus and rheumatoid arthritis, Hale said.
And this new technology recently became available to pet owners through a new business called the Animal Regenerative Care Center, PLLC at 1307 South Main St. Owned by Paula Rode, DVM, who also owns Chelsea Animal Hospital; it's just a short walk away through the thicket of trees that separates the two properties.
Hale is the managing veterinarian and the previous CEO of Animal Blood Resources International, an animal blood bank, who has been working for 20 years in cellular therapies.
This is a specialized veterinary office - it does not provide vaccines or spay or neuter procedures, rather focuses its efforts on new technologies. And animals are either referred by a primary veterinarian or if owners think their pet might benefit from this treatment, they can call 734-562-2030.
The office is open by appointment on Mondays and Saturdays. But on Tuesdays-Thursdays, it's open 9 a.m. - 5 p.m.
Hale said that the regenerative medicine therapy incorporates an animal's natural healing process by using "harnessed cells" and injecting them into the appropriate site to speed up the healing process. This can reduce or eliminate the affected animal's dependency on medications to control pain and discomfort. In addition, using this type of therapy will also eliminate the side effects from prolonged use of certain medications.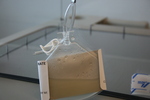 Lisa Allmendinger | AnnArbor.com
"We combine new cellular therapies with common sense care," she said.
In the case of osteoarthritis, for example, if you add up the medications, the supplements, the blood work and special diet, treatments for a dog can cost more than $2,200 a year or about $6,770 for three years. By using stem cell therapy for the same disease, the annual cost is about $3,875, which includes a $500 per year charge for cell storage and readministration of the stem cell treatment. The cost during three years is $4,875, for a savings of about $1,875 when compared to conventional treatments.
But this therapy isn't a cure-all for every disease. It can't be used for cancer or infectious diseases, Hale said, and whether an animal is a candidate for this type of care is dependent on the type of injury or disease.
But it offers veterinarians such as Rode, options to the traditional surgery or drug therapies for some chronic diseases that weren't available previously.
And, for those owners who would like to watch the procedure, there is a large glass window in the care center that looks into the surgical suite.
These cellular technologies promote normal tissue healing rather than scarring and although "it's remarkable medicine, it's not a miracle," Hale said. "I talk as many people out of the treatment as I do into the treatment."
Cellular technologies can be used for diseases like osteoarthritis, joint dysfunction, knee injuries, tears and strains of tendons, inflammatory bowel disease or chronic pain management.
Pet owners can see what's available in person at the center's grand opening on July 9 from 1-4 p.m., and people are invited to meet the principals involved in the cellular therapies, ask questions, and tour the facility.