Retail Report:

New Main Street gift shop in downtown Ann Arbor reflects owners' love of the Himalayas

Posted on Fri, May 27, 2011 : 5:55 a.m.
Though we have plenty of lovely rolling hills, "Tree Town" is pretty flat on a word scale. But that doesn't stop Ann Arbor residents from being interested in mountain climbing or Himalayan culture, says Heather O'Neal.
O'Neal and her business partner Pemba Dorjee, a nationally known Sherpa, plan to officially open Main Street's newest little shop, Himalayan Bazaar today.
O'Neal ran the business out of her home garage on Ann Arbor's Old West Side for years. But this year, she and Dorjee were able to make the leap to a Main Street storefront.
"The move to Main Street came about because Pem Dorjee was interested in opening a shop after working at a Nepalese gift shop in Boulder, Colorado, the last few years," says O'Neal.
"We thought Ann Arbor was a similar town with the university and its diverse, globally-minded population. It seemed like a good fit and a good career change for both of us," says O'Neal. O'Neal expects that a few of the store's shoppers will be mountaineers, but that a good deal of them will be "people interested in culture, travel and adventure."
The store's goal is to bring "a little bit of the Himalayas to Ann Arbor" via handcrafted gifts like those sold in shops the owners have visited during their trips to the Himalayas.
The shop will carry items from Nepal, such as Buddhist statues, singing bowls, Kathmandu jackets, pashmina shawls, jewelry, wall hangings, and more.
The store's location, at 218 S. Main St. downtown, is on the same corner as Elmo's and Peaceable Kingdom. O'Neal says foot traffic will be an asset for her shop.
O'Neal and Dorjee are also establishing an educational hub at the shop for students or travelers who want to learn more about Mt. Everest and Nepal. In fact, O'Neal explains, Himalayan Bazaar already has ties to local students: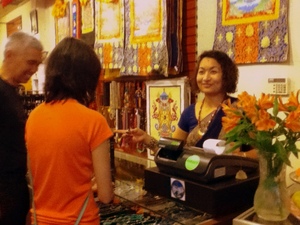 Angela Smith | For AnnArbor.com
"We have a world studies class from Slauson Middle School coming to visit us at the store in June. We will give a talk about the Nepalese culture and geography and show a DVD so they'll get a feel for what the capital city of Kathmandu is like and what life is like in the villages in the Himalayas.
"Hopefully we can broaden their horizons to see how different — yet similar — things are in Nepal and in other cultures."
O'Neal says the shop will routinely host talks about tours in the Himalayas, and will display maps and trip information for those interested in Nepal. At presentations, Dorjee will offer his perspective on climbing Mt. Everest.
"He usually ends up signing a few autographs, too," O'Neal says.
"We will also educate about what we are selling, like the meanings of Buddhist symbols, how singing bowls are used and why the Hindu gods have so many arms. Maybe some girls will be interested in how to put on a sari or henna hand drawings. Most of the items in the store have a story. As a former teacher, I have always had an interest in education," she adds.
Both O'Neal and Dorjee have strong ties to Nepal. O'Neal is an Ann Arbor native who traveled a lot when she was younger through a high school music program and a stint in the Peace Corps. Later, through a college exchange program, she discovered Kathmandu.
"I had always wanted to go back to Nepal and finally did in 1998, which was when I met Pem Dorjee. Since then, I've been going back to Nepal regularly every year, often stopping in several other countries on the way," she says.
Dorjee grew up in a small village in the mountains near Mt. Everest in Nepal. He is a world-renowned Sherpa, a Himalayan native known for mountaineering.
"His first trip to Kathmandu was when he was 20," O'Neal says. "He later went to mountaineering school and became a guide and climber. After his second Everest climb in 2005, the Rotary Club invited him to Chicago for their 100-year anniversary celebration, which was a gathering of 40,000 Rotarians."
Soon after, Dorjee and his wife, Moni, moved to Colorado, where they worked in Nepalese gift stores and restaurants.
"Their wedding on the summit of Mt. Everest in 2005 has made them quite famous — especially in Nepal," O'Neal says.
Himalayan Bazaar plans a grand opening celebration on the evening of June 3. It will be a chance for locals to meet Dorjee and his family, see video footage of their treks up Everest, and enjoy snacks and Nepalese milk tea.