Posted on
Tue, Jan 12, 2010 : 2:50 p.m.
Hip-hop artist Nelly lends street cred to Ford's hot streak at Detroit Auto Show
By Nathan Bomey
Add street cred to Ford Motor Co.'s hot streak.
Hip-hop artist Nelly today endorsed Ford's efforts to connect with youth. He visited the Detroit auto show to promote a collaboration in which the automaker worked with DUB Magazine to customize a 2011 Ford Mustang with a 5.0-liter, V8-engine especially for the 35-year-old artist.
"Just growing up, coming up through high school and everything, the 5.0 was like a dream car for me," Nelly said. "The 5.0 Mustang is the epitome of what muscle cars started, where it should end, where it should be, where it should go."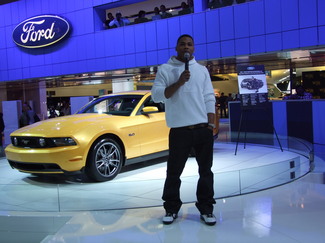 Nathan Bomey | AnnArbor.com
Ford said Nelly's customized Mustang would be included in the artwork for the artist's new album this spring.
Nelly said Ford is connecting with America's youth.
"They're really going in the direction of the people, so to speak. And it's beautiful," Nelly said. "The youth nowadays -- they want everything so aggressive and so alive. So I think the 5.0 is all that. It's aggressive, it's alive, and it's definitely youthful."
Nelly, who had a previous partnership with Ford for its Flex vehicle, today offered advice for the auto industry during its unprecedented economic crisis.
"You go back to resorting to what you do best. I think it's a time right now in what we're going through in America, just in the world period, to where if you're a company and you've lasted for so long - even if you're an artist and you've lasted for so long - it's time to go back to what you do best," Nelly said.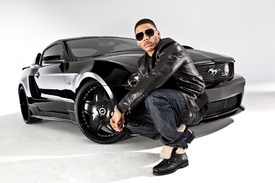 Photo courtesy of Ford Motor Co.
"And they do it the best when it comes to this, when it comes to muscle, when it comes to horses. There's nothing bigger or greater than the 5.0 Mustang, I would say."
Nelly's customized Mustang has a long list of features tailored to his liking. Details from Ford:
The exterior of the vehicle features a custom gloss black paint job with flat black racing stripes and a Street Scenes body kit complete with custom 22- and 24-inch wheels and Pirelli tires. The vehicle also includes a billet grille, hood scoop, tinted taillights, angel eyes headlights and a Borla exhaust.

In addition, the interior is a complete suede and leather design with a custom JL Audio system that includes two 12-inch subwoofers, amps and speakers.
Nelly said he got his love of cars from his family, including his grandfather and his father.
"I probably shouldn't say this but my father used to street race with me in the back seat. And at the time it sounded beautiful," he said. "It's probably a little dangerous now. But at the time I loved it."

Contact AnnArbor.com's Nathan Bomey at (734) 623-2587 or nathanbomey@annarbor.com. You can also follow him on Twitter.