Posted on
Mon, Sep 2, 2013 : 5:58 a.m.
20 bus drivers needed for Ann Arbor, Ypsilanti routes as students head back to class Tuesday
By Amy Biolchini
It's hiring season for bus drivers in Washtenaw County.
As of Thursday, the Washtenaw Intermediate School District has a staff of 150 drivers for 143 routes. It is seeking to hire 20 more for the entire school year, said Tom Moore, transportation coordinator.
Job vacancies occur at such high rates because all of the bus driver positions with the WISD are part-time, temporary jobs, Moore said.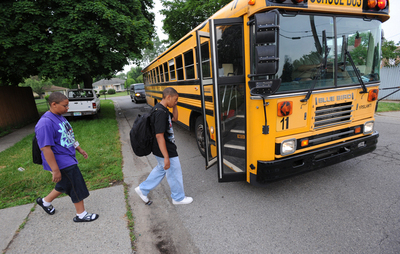 AnnArbor.com file photo
"We're in a constant hiring mode," Moore said. "It's the nature of the job."
Last year at this time, the WISD was looking to hire six bus drivers.
Moore said about 20 bus drivers leave on average during the summer months between school years, as most aren't needed to drive a bus.
Those 20 positions are each for a regularly assigned route where the bus driver will be working with the same group of students every day of the school week. Drivers work three hours in the mornings and three hours in the afternoons on weekdays.
The WISD is also hiring for six bus monitor positions on regularly assigned routes.
Licensed bus drivers start at $13 per hour. They have the opportunity to make up to $16 per hour, based on experience. The WISD also hires retired school bus drivers and pays them at a higher hourly rate, Moore said.
The WISD provides busing transportation for students in Ann Arbor Public Schools and Ypsilanti Community Schools.
As of Thursday, there are 105 bus drivers on AAPS routes and 45 bus drivers on YCS routes. Drivers also do some routes for WISD programs.
Last year, there were 120 drivers in Ann Arbor, 30 in Ypsilanti and 19 in Willow Run. Included in those numbers are substitute drivers who are on call and used as need.
Though the WISD is hiring drivers, Moore said he has enough staff to cover every bus route on the first day of school.
However, some routes likely will have a substitute driver for the first days and weeks as the WISD will be utilizing retirees to fill many open spots, Moore said.
This year, AAPS has moved three more of its high school bus routes over to the responsibility of the Ann Arbor Area Transportation Authority. That makes a total of six high school bus routes formerly serviced by WISD drivers that are served now by TheRide buses.
WISD bus drivers that service AAPS routes are responsible for high school, middle school and elementary school routes. Each route costs AAPS about $12,500 per year.
The switch doesn't have much of an impact on staffing at the WISD, Moore said, noting that most of the staffing issues are a result of employees leaving when they find full-time jobs.
Throughout a school year, about 40 bus drivers will leave their jobs with the WISD, Moore said.
Amy Biolchini is the K-12 education reporter for AnnArbor.com. Reach her at (734) 623-2552, amybiolchini@annarbor.com or on Twitter.