Posted on
Sun, Jan 20, 2013 : 5:59 a.m.
Historic Kerrytown building will get new life after sale to North Star Financial Consultants
By Lizzy Alfs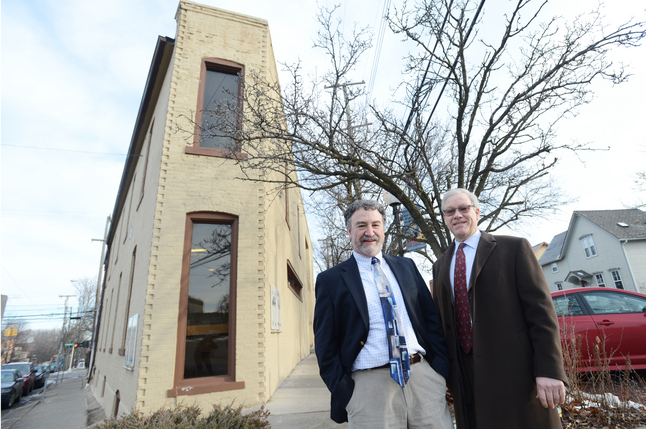 Melanie Maxwell | AnnArbor.com
Two financial advisors in Ann Arbor recently became Kerrytown landlords after they purchased a historic building on Detroit Street.
Mike Stearns and Hylan Moises of North Star Financial Consultants purchased the two-story, 4,700-square-foot flatiron building at 415 Detroit St. for $485,000, city records show. The acquisition positions the duo to eventually expand their business after they relocate from Miller Avenue.
"We wanted to have a space where we could control the future and not have to move or negotiate (a lease) in order to grow," Stearns said.
"Our practice has evolved and we would like a better presentation to represent who we are," Moises added. "This brings a little more exposure to us…it just gives a better ambiance and it's better to look out the windows."
Stearns, who attended the University of Michigan and has years of experience as a tax lawyer, started North Star Financial in 2003. Moises, a professor at U-M's medical school for more than 20 years, retired from teaching and joined Stearns at North Star in 2004.
The bulk of North Star's work is focused on retirement planning and investments. They affiliate with Commonwealth Financial Network.
The decision to purchase the historic flatiron building on Detroit Street comes as Stearns and Moises are positioning their company to grow; at some point, they would like to incorporate more financial services into their offerings.
"(We would like) to be an integrated, financial office for families where they can get tax work done and legal work and financial planning and investments," Stearns said. "That is really what a lot of our clients and other people are looking for."
Zingerman's currently leases the basement of the building for storage, and a law office is leasing the second floor. If those businesses decide to leave at some point, North Star could expand.
Along with local architect Richard Mitchell, Stearns and Moises are planning to renovate the building and move in on July 1. Exterior plans include adding two windows and a metal awning that will distinguish the entrance and enhance the building — which was last renovated in the early 1970s. Ann Arbor's Historic District Commission already approved the plans.
Interior renovations will create three offices, a break room and open space. Stearns said they also are hoping to designate the building "The Flatiron Building."
The building has an assessed value of $260,400 and was listed for sale with Swisher Commercial's Ron Dankert.
"We want it to be nice," Moises said. "We're making a long term commitment to the building and the area and we're going to be investing a fair amount of money to make it look great."
Lizzy Alfs is a business reporter for AnnArbor.com. Reach her at 734-623-2584 or email her at lizzyalfs@annarbor.com. Follow her on Twitter at http://twitter.com/lizzyalfs.