Posted on
Mon, Dec 6, 2010 : 5:58 a.m.
By the Pound in Ann Arbor's South Main Market bulks up holiday offerings
By Laura Blodgett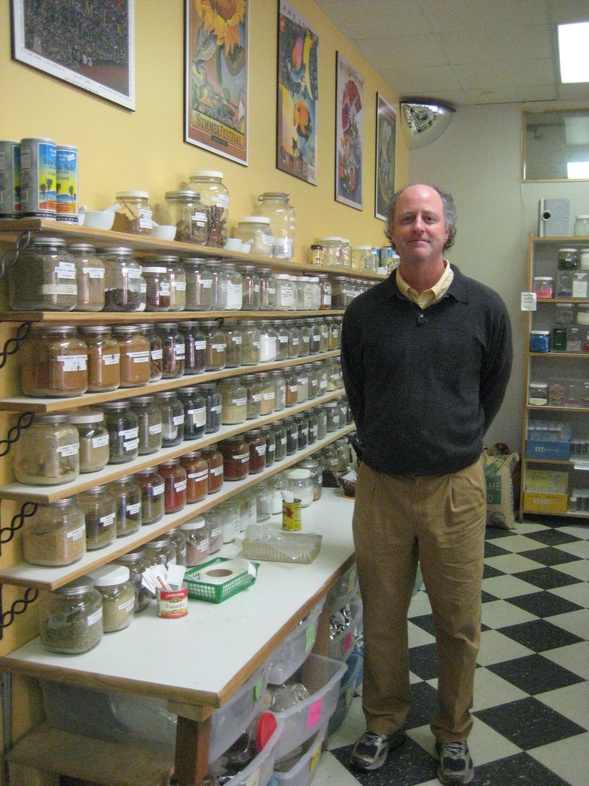 Laura Blodgett | For AnnArbor.com
Nothing says the holidays like homemade baked goods, and that's good news for By the Pound owner Glenn Bourland.
"The holidays are big for me because there is so much baking and cooking food at this time of year, and I sell the ingredients," says Bourland, who bought the store in 1995. "Our business goes up by a third during the last eight weeks of the year."
The bulk food store located at 615 S. Main in South Main Market sells such baking must-haves as exotic nuts, dried fruit, flour, sugar and high end chocolate such as Callebaut Belgian baking chocolate.
In addition to being used for baking, some items are also popular gift items. Bourland capitalizes on the holiday gift season by stocking his store with holiday tins, boxes and cello bags.
"You can fill them up with something like good chocolate cashews, chocolate malt balls or dark chocolate covered cherries, tie a piece of ribbon around it, and you have a quick gift."
Over the years, Bourland has learned to order more than usual in his weekly orders in November and December.
"The worse thing for a retailer is to run out of something. It is always better to have product in stock."
Of course, the mainstays for Bourland are the staples such as herbs, spices, tea, coffee, beans, rice and oatmeal.
"I sell 200 pounds of oatmeal a week," says Bourland. "There are many staples people buy here because it is much cheaper. Every time something is packaged, it is more expensive as well as a waste of materials."
Regular customer Kim Bayer stops in By the Pound every couple weeks to stock up on oatmeal.
"I make my own granola and use a lot of oats, vanilla, cinnamon and nuts. I don't like buying premade granola bars because I like to know what's in it."
Bayer is impressed with the wide variety of spices, sugar and flour.
"The selection here is amazing. Glenn carries six or seven varieties of sugar including Turbinado raw sugar. He even sells stuff from Westwind Milling Co., a mill in Michigan which sells organic flour. Before Glenn carried it, I would have to drive out there to get it."
Despite common assumptions about the economy, Bourland has done well this year.
"Unlike other stores, business is not shaky for me. When the economy was bad, I did better as people went back to baking, cooking and making gifts rather than going out to eat or buying store bought truffles," he said. "I did OK, which makes sense."
This is one in a series of stories by AnnArbor.com's Business Review about local retailers and their strategies during the biggest sales season of the year. Get more local business news by subscribing to the Business Review newsletter and breaking email alerts.
Laura Blodgett is a freelance writer and a frequent contributor to AnnArbor.com.