Posted on
Thu, May 9, 2013 : 5:58 a.m.
Holiday Inn Express proposed for vacant land near Zeeb Road in Scio Township
By Lizzy Alfs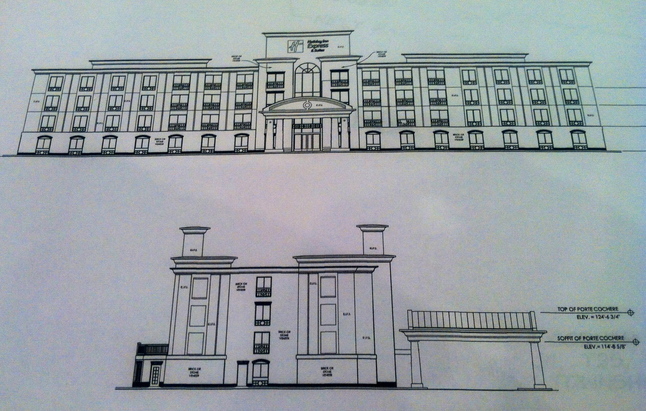 Courtesy of Scio Township
A 112-room
Holiday Inn Express
hotel is proposed for vacant land near Zeeb Road and Interstate 94 in Scio Township.
Tony Anton of Ann Arbor Hospitality Inc. submitted a rezoning request to the township for a 1.4-acre property behind the BP gas station at 325 N. Zeeb Road. Anton is requesting the property be rezoned from C2, general commercial, to C3, highway commercial. The C3 zoning allows hotel uses.
In addition to the parcel behind the BP gas station, the hotel would occupy a portion of the property behind the Big Boy restaurant at 497 N. Zeeb Road, which already has a C2 zoning classification.
Plans submitted to the township say the hotel would have "ample meeting space" and 122 parking spaces.
"We believe this site would benefit from that zoning classification and fit in with the overall master plan of the community while bringing a much needed business to the community," the plans say.
The land behind BP is owned by Michigan Commerce Bank and listed for sale with Swisher Commercial's Charlie Koenn. Koenn said Anton is under contract to purchase the property. Anton, who is registered as the president of a Holiday Inn & Suites hotel in Farmington Hills, could not be reached for comment.
The site is adjacent to a vacant property owned by the Washtenaw County Road Commission where Costco proposed building a store several years ago.
The proposal comes as hotel occupancy rates in the county are strengthening. Rates in the Ann Arbor area reached 63.4 percent in 2012, up from 62.5 percent in 2011. Ann Arbor occupancy rates are the strongest in the state, according to a report by Charles Skelton of Hospitality Advisors.
Three miles east of the proposed Holiday Inn site, an Ann Arbor hotel owner wants to build a Hampton Inn & Suites at 2900 Jackson Ave. Akram Namou of A&M Hospitality and Executive Hospitality, also the owner of the Clarion Hotel, submitted plans in January to construct a four-story hotel containing 100 rooms, a workout facility and a pool.
There will be a public hearing for the Holiday Inn Express rezoning request at a 7 p.m. Planning Commission meeting on Monday, May 13. Scio Township Planner Doug Lewan said planning staff will be recommending approval.
Lizzy Alfs is a business reporter for AnnArbor.com. Reach her at 734-623-2584 or email her at lizzyalfs@annarbor.com. Follow her on Twitter at http://twitter.com/lizzyalfs.