Posted on
Wed, Aug 21, 2013 : 1:38 p.m.
Honda plans to bring more job responsibilities from Japan to Ann Arbor
By Ryan J. Stanton
The Honda Emissions Lab on Research Park Drive in Ann Arbor has been conducting vehicle emissions testing since 1975 and it's now poised for a major expansion.
The Ann Arbor Planning Commission voted Tuesday night to recommend approval of Honda's plans for a new two-story, 24,116-square-foot addition to the existing 19,357-square-foot facility. The plans now await final approval from the City Council.
Tommy Chang, a manager for the American Honda Motor Company, told planning commissioners the company is excited about the project.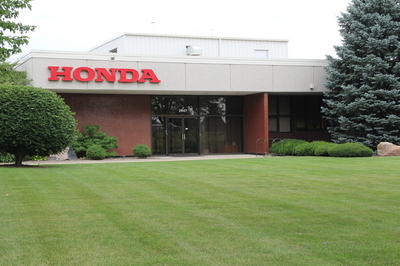 Ben Freed | AnnArbor.com
"We have been here since 1975 to conduct tailpipe emissions, evaporative emissions and fuel economy testing in compliance with EPA regulations," he said.
The new space will house a chassis dynamometer — which measures the amount of power or torque generated by a machine — as well as storage space for test vehicles and other equipment.
Chang said it will be a "state-of-the-art environmental chamber" that will help Honda put even cleaner vehicles on the streets.
"Our intent is to also bring more job responsibilities from Japan to the Ann Arbor area," he said. "Personally I think Ann Arbor is the right place for technology."
The lab on Research Park Drive is one of 43 major facilities Honda operates in the United States. Honda's only other emission's testing facility in America is located in Denver.
The estimated cost of construction for the expansion is $4.3 million, according to a staff report from City Planner Matt Kowalski.
Plans call for an underground stormwater detention system on the southwest portion of the site with a connection to the city's storm sewer. There are no existing stormwater facilities onsite.
Kowalski said the project needs to go before the city's Zoning Board of Appeals next week for approval of a variance for the driveway width.
A variance is required in order to keep the width of the existing curb cut. City code requires 24 feet for a two-way drive and the existing curb cut is 19.7 feet wide.
There are seven landmark trees located on the site, and two of them will be removed. Six new trees will be planted as mitigation for the landmark tree removal.
Honda also plans to install 32 shrubs along the front of the new building to help minimize the visual impact, and a new public sidewalk will be installed along Research Park Drive.
Since the original testing facility was constructed in 1975, there was a 4,400-square-foot addition in 1994, according to Kowalski.
Ryan J. Stanton covers government and politics for AnnArbor.com. Reach him at ryanstanton@annarbor.com or 734-623-2529. You also can follow him on Twitter or subscribe to AnnArbor.com's email newsletters.