Posted on
Sat, Oct 15, 2011 : 5:57 a.m.
4 ways locally grown food can create more jobs for the Ann Arbor area
By Nathan Bomey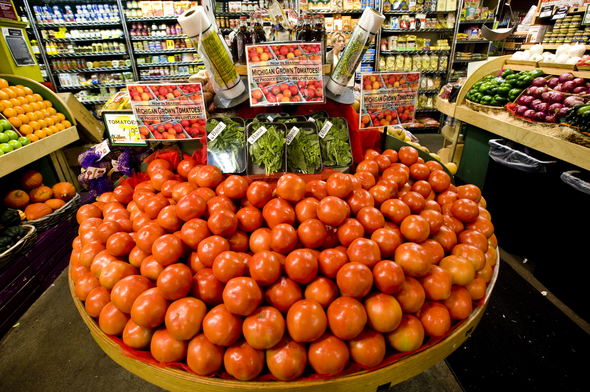 Joseph Tobianski I AnnArbor.com
(
This story is Part 2 in a 2-part series on how food is creating jobs in Michigan. See Part 1 here
:
Michigan's next big job opportunity: growing agricultural industry?
)
Powered by the "locavore" movement, food is quickly becoming a source of innovation and job creation for the Ann Arbor area.
Locally grown, processed and sold food offers a significant economic opportunity for Washtenaw County, local officials agree.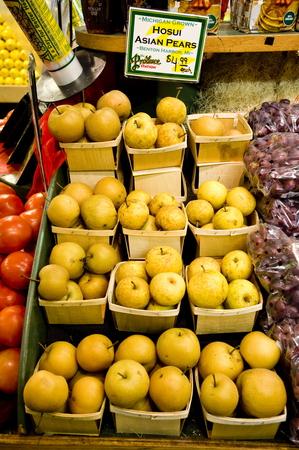 Joseph Tobianski I AnnArbor.com
The boom in sales for Michigan's
$71.3 billion "agri-food" industry
is aided by a surge of interest in local food products.
The emergence of businesses like outdoor food courtyard Mark's Carts — a downtown Ann Arbor destination where small-scale restaurateurs are trying out new concepts — and the growth of long-time local institutions like the Produce Station highlight the immediate benefits of an increase in local food.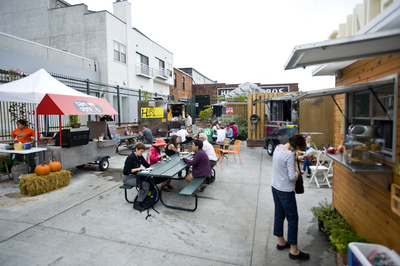 Joseph Tobianski I AnnArbor.com
For Washtenaw County, food has already been creating jobs. From 2009 to 2013, local restaurants and bars were projected to add 1,190 jobs, according to an economic study and forecast released in March by the University of Michigan. About 12,000 people work for restaurants or bars in the county today.
The Michigan Department of Agriculture and Rural Development believes the state's agri-food industry can grow to $100 billion.
Industry officials say that could involve several new initiatives, including:
1. New job training programs and opportunities. Washtenaw County government leaders are currently formulating a plan to launch a commercial kitchen incubator modeled after a concept that came out of a recommendation by the Food Systems Economic Partnership.
The incubator will provide food entrepreneurs a chance to try out their ideas in a commercial environment, said Mary Jo Callan, community development director for Washtenaw County. The operation is likely to be located in Ypsilanti, although details are still being finalized.
The partnership also recently received $91,840 from the U.S. Department of Agriculture's Farmers Market Promotion Program, U.S. Sen. Carl Levin, D-Michigan, announced Thursday. Those funds will be used to purchase equipment for the Tilian Farm Development Center.
2. An emphasis on the development of a bigger Michigan food processing industry. U.S. Sen. Debbie Stabenow recently said she's collaborating with Gov. Rick Snyder to identify ways to grow Michigan's food processing industry.
The industry has some 134,000 employees working at 1,600 licensed food processors, according to statistics released last year by the Michigan Department of Agriculture and Rural Development and Michigan State University. But nearly 1,000 of those processors had less than $25,000 in annual sales.
"We grow things here, we send them somewhere else to process" and then it comes back to be eaten, Stabenow said at an event hosted by the Ann Arbor/Ypsilanti Regional Chamber of Commerce. "That's an opportunity for us."
3. Governmental funding programs. Earlier this year, the state Legislature passed a new law allowing the agricultural industry to apply for low-cost loans and grants through the Michigan Economic Development Corp.'s $2 billion 21st Century Jobs Fund. Previously, the Jobs Fund had been limited to high-tech companies in sectors such as advanced manufacturing and life sciences.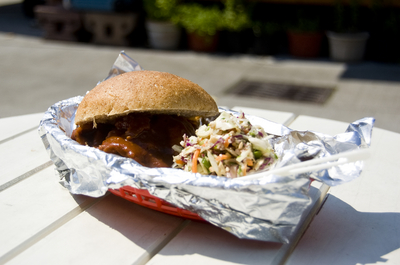 Joseph Tobianski | AnnArbor.com
4. A coordinated initiative to encourage major institutions to buy more local products. University of Michigan President Mary Sue Coleman announced last month that the university would get 20 percent of its food from Michigan sources by 2025.
One key opportunity that would accelerate Michigan's agri-food industry is the development of basic food processing operations, said Kathryn Colasanti, leader of the Michigan Good Food Charter Development project and visiting specialist with MSU's C.S. Mott Group for Sustainable Agriculture.
For example, universities, hospitals and prisons generally want to buy more local food. But they may not be positioned to prepare locally grown food for consumption, Colasanti said.
"They want the local product and fresh food but don't always have the capacity to deal with 10, 20, 30 farmers to get it," Colasanti said. "They need delivering, they need processing — just washing, cutting, chopping — before it gets to their door. That's the sort of infrastructure that's missing."
She added: "There is a lot of economic opportunity because we have the demand from the buyers."
That demand is crystal clear to local businesses like the Produce Station, which employed 65 workers this summer, up from 55 a year ago.
In late summer, the Produce Station, which is located just south of downtown on State Street, gets 60 percent to 70 percent of its products from local farmers, said general manager Andrew Gorsuch.
"We buy direct from farms for a lot of the things we sell," he said.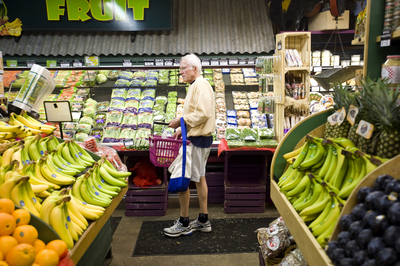 Joseph Tobianski I AnnArbor.com
The Produce Station buys fruits, vegetables, dairy products and greenery from local farms.
"If we're talking about a cheese-maker that has a herd of cows, they take the milk and make it into cheese, they sell it to us and we sell it to the customers," Gorsuch said. "All that money is helping out the people of Michigan, and that's a positive in my opinion. On the fruits and vegetables side, the same thing."
Consumers' interest in local products is even causing big-box stores like Michigan-based Meijer and global retailer Walmart to start buying more locally grown food — which presents a competitive problem for small local retailers.
For now, though, it's not cutting into the Produce Station's profits.
"I think business will be fine," Gorsuch said. "We've had a great year so far."
Meanwhile, local farmer's markets are flourishing, too. The Ann Arbor Farmers Market tested a Wednesday evening market this summer, and U-M tested a farmer's market at the Michigan Union last month.
The number of Michigan farms that sell products directly to consumers rose 29.4 percent to 6,373 from 2002 to 2007, according to an MSU report. Farmers sold $37.3 million in products directly to consumers in 2007, according to the report.
Meanwhile, the number of certified organic agriculture operations in Michigan rose from 171 in 2006 to 232 in 2007 and 256 in 2008, according to the U.S. Department of Agriculture's Economic Research Service. Callan said that an educational initiative to encourage local residents to buy more local food would be an instant boost to the economy.
A report by a group called the Food Systems Economic Partnership found that if residents on the eastern side of Washtenaw County were to spend 10 percent of their food budgets on local food, it would inject $34 million into the local economy.
"To foster and create more jobs and local pride, local sense of community, it's a really achievable endeavor," Callan said. "And I think it can be relatively pain-free. If I have a choice, a real choice of produce options and the local option is even 5 percent more, I'll do it."
Contact AnnArbor.com's Nathan Bomey at (734) 623-2587 or nathanbomey@annarbor.com. You can also follow him on Twitter or subscribe to AnnArbor.com's newsletters.