Posted on
Tue, Dec 27, 2011 : 11:59 a.m.
'Iconic Ann Arbor brand': New owner plans to liven up State Street Stucchi's
By Lizzy Alfs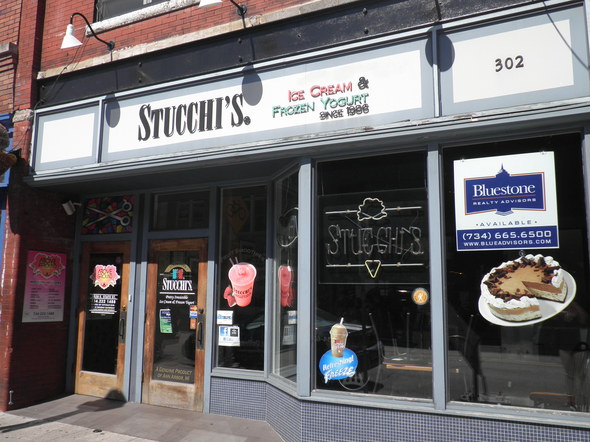 Lizzy Alfs | AnnArbor.com
The new owner of the
Stucchi's
ice cream shop located on South State Street in Ann Arbor plans to remodel the store, introduce new products and make the store a "cool place to be" again.
Jim Seta, who also owns a Stucchi's franchise in Dexter, signed a lease to take over the 1,500-square-foot space at 302 S. State St. last week.
The opportunity came about when the previous owner, Ashvin Amin, planned to close the State Street store by the end of the year.
Since June, Deb Pearson of Bluestone Realty Advisors has been marketing the space for $42 per square foot per year. The landlord for the property is the Oxford Companies, owned by Jeff Hauptman.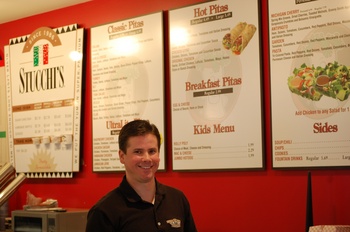 Photo by Janet Miller
But Seta said Stucchi's - which started in Ann Arbor in 1986 by two brothers - is an "iconic Ann Arbor brand" that should be continued.
"This is absolutely something worth keeping," he said. "When we heard about the potential of the store closing, we had to figure out a way to keep it open on State Street."
Seta and his wife, Sarah, are remodeling the store this week, including repainting, adding televisions, installing new light fixtures, building a "sprinkle station" and installing chalkboards for customers to draw.
He also plans to offer gourmet chocolates and may eventually add coffee products.
"Over the course of the past several years, not a lot of reinvestment has taken place at that location," Seta said. "It's going to be bright and cheery and a fun place to be. Our slogan is 'It's the cool place to be.'"
The store will be closed Dec. 31 and Jan. 1 while Seta wraps up the renovations.
"We wanted to keep the store mostly open during the remodeling process, so there may be minor disruptions," he said.
Although there is a Ben & Jerry's right next door to Stucchi's on State Street, Seta isn't too concerned about the competition. The reason: All of Stucchi's products are made in Michigan.
So far, Seta has hired five employees for the new location, including two who worked at the shop under the previous owner.
There is another Stucchi's located on South University Avenue near the University of Michigan campus. There are several other locations that sell Stucchi's products in Michigan.
In 2008, Stucchi's Ice Cream was sold to Michigan-based Papa Romano's Enterprises, which also owns Mr. Pita.
Lizzy Alfs is a business reporter for AnnArbor.com. Reach her at 734-623-2584 or email her at lizzyalfs@annarbor.com. Follow her on Twitter at http://twitter.com/lizzyalfs.