Posted on
Wed, Jan 19, 2011 : 10:28 p.m.
Immigration emerges as an issue in Rick Snyder's State of the State
By Nathan Bomey
Gov. Rick Snyder said tonight that foreign immigrants with advanced college degrees should be welcomed into Michigan — part of a broader strategy he believes is critical to revitalizing the state's economy.
Snyder, a Republican, said during his first State of the State address he has asked the Michigan Department of Civil Rights to partner with the Michigan Economic Development Corp. to launch an "an exciting new initiative to encourage immigrants with advanced college degrees to come to Michigan to live and work."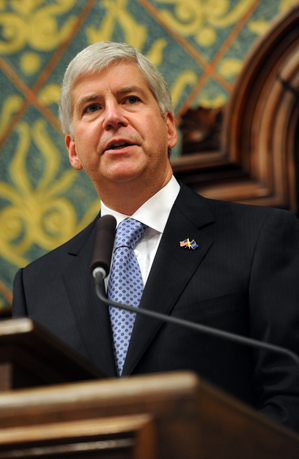 Melanie Maxwell | AnnArbor.com
The announcement marks the re-emergence of immigration as a statewide issue in Michigan. The issue, although a hot-button topic in many other states, was barely mentioned during Michigan's gubernatorial campaign.
But Snyder suggested that talented foreign workers have a place in Michigan's economic renewal. He mentioned an oft-cited fact that half of Silicon Valley startups are founded by immigrants.
"We need to be a place that openly encourages innovators and entrepreneurs that come to our state. The evidence is clear that advanced college degree immigrants can make a tremendous difference in creating a positive economic activity environment," Snyder said. "Immigration made us a great state and country. It is a time to embrace this concept again as a way to speed our reinvention."
Snyder's proposal was greeted positively — albeit not enthusiastically — by state legislators.
In some political circles, embracing foreign immigration is viewed as politically dangerous because critics believe immigrants take away jobs from Americans.
Asked whether he liked Snyder's proposal, Republican Speaker of the House Jase Bolger responded, "Certainly."
"We have to look at everything that can make Michigan a more competitive place to provide a job for our citizens," he said.
Senate Minority Leader Gretchen Whitmer, D-East Lansing, said she supported the idea, too.
"It's hard to disagree with legal immigrants coming to Michigan and starting up businesses," she said. "So I think that was an interesting angle to include in the speech tonight. I have a hard time imagining anyone who would find fault with that."
In 2007, Snyder led an initiative at Ann Arbor SPARK to lobby Michigan's Congressional delegation to seek federal changes allowing more talented immigrant workers to come into the U.S.
The group was initially formed as a response to Pfizer's decision to shutter its 2 million-square-foot Ann Arbor operation, displacing more than 2,100 workers — including many immigrants. The initiative never got much traction, due in part to the political stalemate on immigration in Washington.
Snyder said at the time an influx of talented foreign immigrants could boost the economy.
"If you look at what they're contributing to the country as a whole, it's a huge amount," Snyder said then. "We just don't market ourselves well, and we don't do a good job presenting ourselves to people as a place to come to" for foreign talent.
After Snyder's State of the State speech tonight, former SPARK CEO Michael Finney, now the MEDC CEO, said his agency would play a role in trying to attract talented foreign immigrants to Michigan.
"Our country was built on successful immigrants," Finney said. "It only seems logical that we would continue to look to immigrants, particularly those that are receiving the advanced degrees at our wonderful educational institutions — we should look to them to be entrepreneurs, to be resources in our state, instead of requiring them to leave our country upon graduation."
Contact AnnArbor.com's Nathan Bomey at (734) 623-2587 or nathanbomey@annarbor.com. You can also follow him on Twitter or subscribe to AnnArbor.com's newsletters.