Posted on
Mon, Nov 12, 2012 : 5:58 a.m.
Industrial display company Dynics plans 2nd Ann Arbor area expansion of 2012
By Ben Freed
Avis Farms tenant Dynics Industrial Computer Solutions has submitted plans to Pittsfield Township's planning commission for its second expansion of 2012.
The industrial displays and signage company moved to Avis Farms earlier this year from their previous location on Victory Drive. The current expansion proposed would add 4,608 square feet to the 21,418 square-foot building.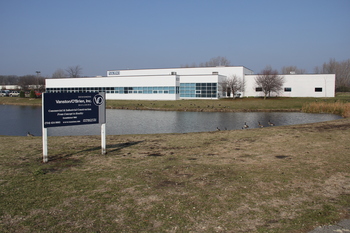 Ben Freed | AnnArbor.com
According to the site plan, the space would be used to increase manufacturing capabilities.
"The first expansion in May was about 6,500 square feet, but we've simply continued growing," Dynics spokesperson Alfonso Tercero said.
"We've seen a big increase in our production of large-format displays that provide signage to universities as well as airports and any other place you have a large number of people trying to find their way around."
The increase in sales of the large displays has led to rapid growth for Dynics in 2012. The company's year-over-year revenue has increased by 40 percent, and 13 new hires in 2012 have brought the company to a workforce of approximately 35 people.
Tercero said projections for 2013 are for an additional increase in workforce and another 30 percent increase in revenue.
The increase in production at Dynics has been made possible by higher quality and larger screens being made available for the large display signs.
"Ten years ago, you could not get a screen bigger than maybe 15 inches for what we do," Tercero said.
"The screens we use are not screens you can just go buy in any big box store. We get industrial graded displays that can be used 24/7. By comparison, the screens you would buy in a retail store are rated for five or six hours of daily operation."
Dynics purchases the screens and then integrates them with the company's computers to provide their industrial products.
In addition to universities and airports, Tercero said Dynics has found a niche market with automakers and hopes to continue growing in the Ann Arbor and Southeast Michigan area in the future.
The site plans will be reviewed by the Pittsfield Township Planning Commission at their regularly scheduled meeting on Nov. 15.
Ben Freed covers business for AnnArbor.com. You can sign up here to receive Business Review updates every week. Reach out to Ben at 734-623-2528 or email him at benfreed@annarbor.com. Follow him on twitter @BFreedinA2