Posted on
Mon, Dec 12, 2011 : 5:58 a.m.
Top 10 most popular searches for holiday toys in Ann Arbor
By Lizzy Alfs
Rather than receiving an unattractive sweater or an electric toothbrush as a holiday present this year, cold hard cash appears to be the most desired gift, according to a poll by SodaHead.
According to the poll, 39 percent of respondents are hoping for cash or a gift card, followed by vacations at 30 percent, electronics at 21 percent, and clothes/jewelry at 10 percent.
Aside from cash, tech gadgets are reigning as some of the top present choices, with people asking for the Apple iPad2, iPhone 4S, Amazon Kindle Fire and Xbox Kinect.
During this holiday season, consumers are expected to spend $465.6 billion on gifts and other items, a 2.8 percent increase over 2010, according to the National Retail Federation.
Aggregated web search activity complied by Google, which can be compiled to profile a general region, is also providing new insight into local consumer's holiday trends.
In Michigan, people are searching for tablets, video games and digital cameras.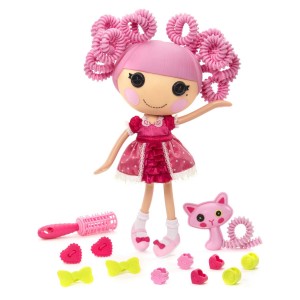 Photo courtesy of Loopsy Dolls
Michigan web users also complete 280 percent more searches for "gifts for men" than "gifts for women." And the "toys for boys" search is 20 percent higher than "toys for girls."
According to Google, these are among the top toy searches in Ann Arbor this holiday season:
1. Lalaloopsy Silly Hair Doll 2. Ninjago Lego 3. Rainbow Dash My Little Pony 4. Pokemon 5. Barbie 6. Harry Potter Lego 7. Fluttershy My Little Pony 8. Moshi monsters 9. Nerf Vortex 10. Fijit friends
Lizzy Alfs is a business reporter for AnnArbor.com. Reach her at 734-623-2584 or email her at lizzyalfs@annarbor.com. Follow her on Twitter at http://twitter.com/lizzyalfs.