Tamara Real's Culture & Commerce
Arts and culture funding isn't a case 'of either-or'
Posted on Sun, Dec 27, 2009 : 6 a.m.
Often during hard economic times, people point to the needs of the homeless and hungry as though that were a justification for not funding arts and culture. Such folks like to set up an "either-or" scenario when in fact what is needed is a "both-and" solution.

That latter path may require a little more creativity, but ultimately will cost businesses and taxpayers less in terms of remedial social services. Let's check history to see what I mean.
In the 1950s and 1960s, there was a great push for what was called "urban renewal." As part of this effort to improve downtowns, major highways were constructed and swathes of older homes and buildings were demolished to make way for new, efficiently constructed, modern buildings. With little to no regard for aesthetic or social considerations, these efforts had devastating impacts.
Let's just look at the housing issue. Urban planners responded to the era's great concern to provide affordable housing for low-income individuals by designing efficient, cost-effective housing complexes. These large, bland, cookie-cutter-produced facilities lacked the color and imaginative details that transform a box into a dwelling. The facilities rapidly came to be known as "the projects."
"The projects" certainly housed people. A project apartment provided shelter from the elements, but did nothing to shelter the spirit from despair and anger. Soon, the projects became synonymous with drug dealing, crime, and violence. Recognized as unsalvageable, most projects like the infamous Cabrini Green complex in Chicago had to be themselves demolished. The thousands of low-income people who lived in these facilities have borne the scars of that experience as represented by drug addiction, prison sentences, and unwanted pregnancies. And as a society, we have borne these scars by paying the costs of new social services to address this second-generation of needs.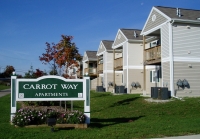 Perhaps including a greater arts and cultural perspective in the design and creation of the projects might not have made a difference in the lives of the inhabitants. But, it is worth noting that when Avalon Housing chose to construct low-income housing at Carrot Way, it opted to create a facility that is colorful and individualistic. Details such as the large mosaic tile mural fronting the Carrot Way community center reinforce a sense of hope and individual worth for all who enter.
This scenario can also be seen playing out in the differences experienced by East and West Germans before the Wall came down in 1989. Although not the central point of the movie, the impact of the arts in people's lives can be forcefully seen in the 2006 East German film The Lives of Others (Das Leben des Anderen). The hope and creativity radiating from the apartment of the theater director and his actress wife contrast dramatically with the low-cost, soul-less apartment of the Stazi spy. People can exist but they cannot live where there is nothing to elevate their spirits.
So, as you consider your end-of-year charitable contributions, keep in mind that as a society we need to feed both the body and the spirit. Your investment in our area's arts and cultural organizations is an investment in preserving the community you live in, in keeping locally owned businesses functioning, and in helping all of us keep our hopes alive during this difficult time.
Tamara Real is executive director of the Arts Alliance and is a regular columnist for Business Review.