Posted on
Tue, Aug 24, 2010 : 3:50 p.m.
$111M in stimulus funds to Ann Arbor nonprofit's Internet project boosts Michigan, supporters say
By Nathan Bomey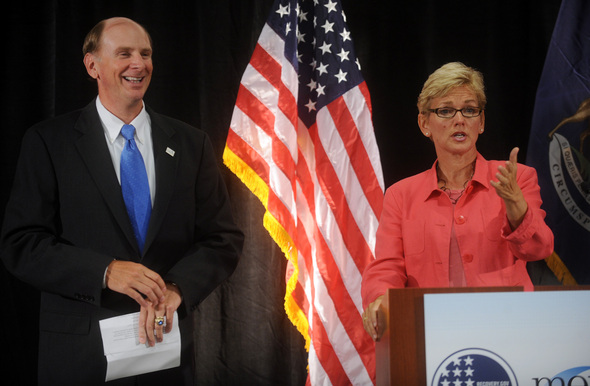 Melanie Maxwell | AnnArbor.com
The $111 million in funding awarded to an Ann Arbor-based nonprofit to improve Michigan's broadband Internet access illustrates the importance of 2009's federal economic stimulus package, Gov.
Jennifer Granholm
said this afternoon at a press conference.
The funding -
$33.3 million awarded in January
and
$69.6 million awarded last week
- will help
Merit Network
construct more than 2,200 miles of fiber optic cables to hasten high-speed Internet access in the Midwest.
Granholm said Merit Network's funding is an example of how the $787 billion American Recovery and Reinvestment Act is sparking Michigan's economic revitalization. Merit Network is believed to be the Ann Arbor region's largest recipient of stimulus funds outside of the University of Michigan.
Michigan has received about $7.7 billion in funds for nearly 7,200 awards from the economic stimulus package, according to Recovery.gov.
"We would not be able to do this at all were it not for the Recovery Act and the brave folks who voted yes to do that," Granholm said at Merit's offices in Ann Arbor.
Her comments came as the stimulus package is turning into campaign topic during general election season, prompting the Democratic Party to defend the bill in public appearances.
A poll released in July by Rasmussen Reports showed that 42 percent of Americans believe the stimulus bill hurt the economy and 29 percent believe it helped.
"We do not have the luxury of waiting months for the president to pick scapegoats for his failing stimulus policies," U.S. Rep. John Boehner, the Republican minority leader, said this morning in Ohio, according to the Wall Street Journal. "We've tried 19 months of government-as-community-organizer. It hasn't worked."
U.S. Rep. John Dingell, D-Michigan, said today in Ann Arbor that improved high-speed Internet access is a worthwhile investment.
"This is absolutely critical to this state modernizing its economy and competing in the 21st century," he said. "It's going to ensure that we are not passed over - particularly the people in the north."
Granholm said the funding provided to Merit is necessary to improve access to high-speed Internet in Michigan's underserved regions. She said it would give business people and aspiring entrepreneurs access to information that would help them compete in today's dynamic economy.
"I'm telling you that projects like this, which create this 21st century infrastructure, this will be huge for Michigan's future in terms of education and giving all children access to the globe in terms of entrepreneurship, giving everyone the chance to sell, to transact business online," she said. "There are so many corners of Michigan that have not had that opportunity."
Merit's program - which includes some $30 million in investment from private sector partners - aims to improve high-speed access to some 569 "community anchor institutions" such as universities, schools and libraries.
Merit CEO Don Welch said that private companies are paying for access to some fiber strands on the network, which they will use to sell Internet access to residents in underserved areas of both of Michigan's peninsulas.
"The value will eventually get down to the homes and businesses," Welch said.
Merit, which has about 71 full-time employees in Ann Arbor, is hiring about two new employees a month to staff its growth. Merit is a 44-year-old nonprofit whose primary purpose is to broaden high-speed Internet access and connect educators, researchers and community members.
Welch said the construction of the 1,017-mile network in the Lower Peninsula and the 1,210-mile network in the Upper Peninsula, Wisconsin and Minnesota would require some 20 construction teams. Crews will do most of the work in summer 2011.
"This program is a textbook example of government investment done right with government funding catalyzing millions of dollars of additional private and local investment," said Larry Strickling, assistant secretary for communications and information at the U.S. Department of Commerce and administrator of the National Telecommunications and Information Administration.
Contact AnnArbor.com's Nathan Bomey at (734) 623-2587 or nathanbomey@annarbor.com. You can also follow him on Twitter or subscribe to AnnArbor.com's newsletters.