Posted on
Thu, Apr 18, 2013 : 2:44 p.m.
Jerusalem Garden expansion, rooftop patio get OK from Historic District Commission
By Ben Freed
Since the underground parking garage construction finished and South Fifth Avenue re-opened in Ann Arbor, business has been very good at Jerusalem Garden. So good, in fact, that the restaurant, at 307 S. Fifth Ave., submitted plan to the Historic District Commission for an expansion that would nearly double the building's square footage.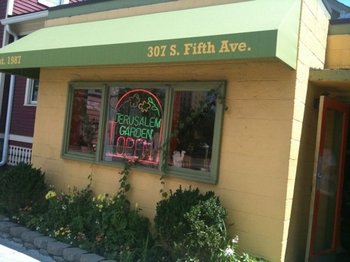 "We're really bursting at the seams here," owner
Ali Ramlawi
said. "We serve 150,000 meals a year here and it's becoming difficult to meet our demand and offer people a good experience."
Ramlawi said friends warned him that going in front of the HDC could be daunting, but he said the review by the commission might be the easiest part of the process.
"Fortunately they were really nice," he said.
The HDC unanimously approved Ramlawi's expansion plans at its April 11 meeting. The project now must be reviewed by Ann Arbor's Planning Commission before construction begins.
"It's actually amazing how accommodating they were to our needs and how much they wanted to see us stay here and grow," Ramlawi said of the HDC. "They really gave us the green light and I was flattered by the support we got from them."
Preliminary plans available on the Ann Arbor city website show an addition to the back of the Jerusalem Garden building that would add room for 54 seats in addition to a brand-new rooftop patio for increased summer seating.
"Patios are great, and the one we have, on nice days, it really helps," Ramlawi said. "But when it's 40 degrees and raining, as it often is in Michigan, we have to have space inside."
The renovation would also increase the size of the restaurant's kitchen and add a basement with a "prep-area" for food and a walk-in cooler. On the ground level, the plan would add 979 square-feet to the existing 1,283 square foot restaurant. Ramlawi said he has a 12 to 18 month timeline for the project.
"The plan is still in its infancy, but it's a hot topic for me right now," he said. "It's all I think about."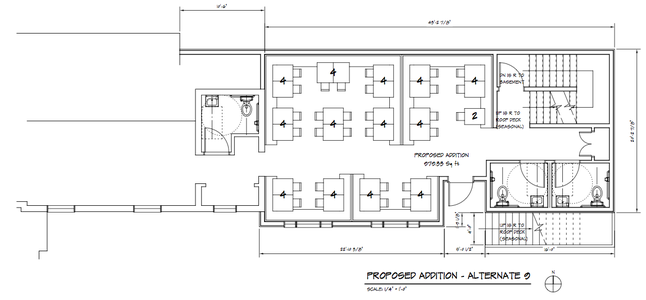 From city staff report: Drawing by Michael Bruner, Architect
See what Ali Ramlawi had to say about what he expected for his business when 5th Avenue first re-opened last summer:
Ben Freed covers business for AnnArbor.com. You can sign up here to receive Business Review updates every week. Reach out to Ben at 734-623-2528 or email him at benfreed@annarbor.com. Follow him on twitter @BFreedinA2