Posted on
Thu, Jul 8, 2010 : 6:01 a.m.
Jim Bradley Pontiac Buick GMC dealership sold to ex-employee who owns Saturn of Ann Arbor
By Paula Gardner
Changes were certain this year at Ann Arbor's Saturn and Pontiac dealerships, since General Motors Corp. decided to eliminate the brands.
But GM's product consolidation - which could have left Saturn of Ann Arbor owner Mack Johnson without a new car nameplate - instead spells opportunity for him.
Johnson, an Ann Arbor area resident, just bought Jim Bradley Pontiac Buick GMC. He's preparing to move it from its location on the corner of Jackson and Wagner roads in Scio Township.
Mack Buick-GMC is the new name of the business, and it represents a merger of the remaining staffs, surviving GM brands and service businesses.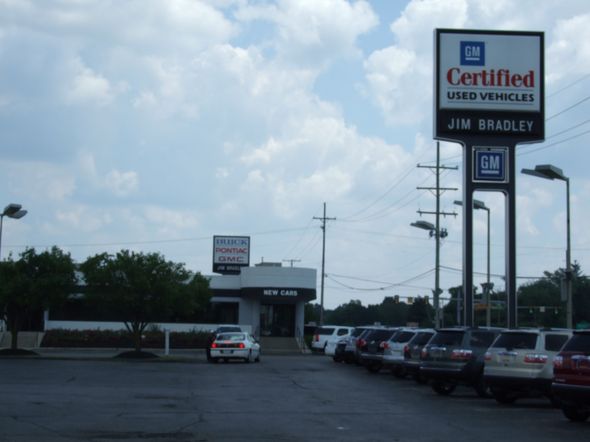 The northwest corner of Jackson and Wagner roads has long been home to the Jim Bradley dealership. With its sale, it will be rebranded as Mack Buick GMC and moved to the Saturn dealership on Auto Mall Drive. The service shop will remain at the Wagner Road corner.
Soon, marketing director Sarah Woolson said, all of the new vehicles on the existing lot will be moved to Johnson's Saturn dealership at
500 Auto Mall Drive
, about one mile west, and new signs will be posted for the new brands.
"We started moving some of the inventory down to Saturn already," Woolson said. "We will be ramping up our inventory levels as well."
At least 80 new vehicles are in the supply pipeline, Woolson added.
Jim Bradley Pontiac Buick GMC was founded by the late Jim Bradley, who became the first African-American GM dealer to reach the milestone of 30 consecutive years in business.
Bradley died in 2003, and his general manager, Jim Allen, took over the business in a partnership with William Perkins, a former employee of the dealership. Allen died in 2006, and Perkins continued the operations as part of his Bill Perkins Automotive Group, based in Eastpointe.
Perkins said the sale lets him focus on his other stores in Metro Detroit, while allowing another dealer who lost a brand to pick up a nearby business.
"I'm trying to be proactive and positive," said Perkins, also president of the Detroit Auto Dealers Association. "I'm giving someone else a chance."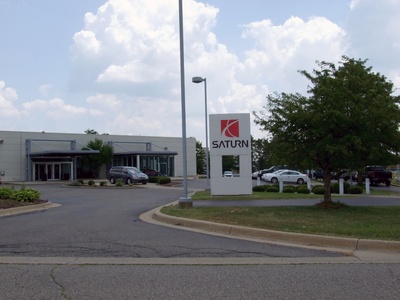 Paula Gardner | AnnArbor.com
Johnson, meanwhile, was raised in Ann Arbor and started his automotive career as a parts driver for Jim Bradley in the mid-1980s.
"He worked his way up from there," Woolson said.
With the transition to Johnson's ownership on July 1, the dealership continues as one of the region's leading African American-owned businesses, Woolson said.
It also continues a tradition set by Bradley to develop loyalty among employees, who grow into leadership - and ownership - positions within the GM family. So far, 26 employees will be making to the move to the new location, Woolson said. In addition, the remaining Saturn employees now will retain their jobs, and some who hadn't found new jobs as the dealership's business slowed into mostly a service operation have been called back to work.
Dealership changes are happening across the U.S. as automakers consolidate their businesses and reduce the number of sales outlets. More than 1,600 dealerships closed in 2009, representing an 8 percent reduction. Many GM and Chrysler dealers challenged the closings, but the closings have been felt locally, with examples like Palmer Ford in Chelsea and Prestige Buick GMC in Ypsilanti Township.
Now, as the Pontiac and Saturn nameplates disappear from the marketplace and the dealership moves from its longtime corner, Woolson said, former Jim Bradley customers should still find a sense of longevity at the business.
"Customers will see the familiar faces they've relied on for years now," she said. "We'll take care of them the way we always have, and we're excited about the new opportunities."
Meanwhile, the Mack Buick GMC body shop will remain on the premises of the former Jim Bradley dealership. The 7.71-acre property, located at 3500 Jackson Road, has been leased to the dealership by heirs to the Bradley estate, Perkins said.
Paula Gardner is Business News Director of AnnArbor.com. Contact her at 734-623-2586 or by email. Sign up for the weekly Business Review newsletter, distributed every Thursday, here.