Posted on
Thu, Nov 25, 2010 : 5:51 a.m.
Job Hunting Tool Kit: Networking for the non-networking types
By Kim Kachadoorian
Networking — it is a common topic of conversation online at AnnArbor.com and with job hunters. However, if you are shy or an introvert… how do you network? Read on for a few suggestions.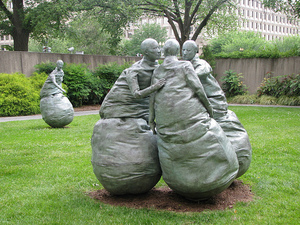 For Networking Pros,
how to help the non-networkers:


Recognize not everyone is a networker. I have a very gregarious personality. One of my friends said, "You have no problem talking to complete strangers — I could never do that." For her, the mere thought of this was painful — I could see it in her eyes. Recognize when you are networking that it isn't easy for everyone to do this. Actually seek a non-networker out at event and start a simple conversation to help them ease into the event.
Invite non-networkers to an event — a simple event, not an all-day kind of thing. Introduce them to a few people and stay near them. You are their first event safety net. They are skating on thin ice usually, and their enjoyment factors may be small. You are the first key to helping them become networking stars.

For the Non-Networking Types:
Get a profile on LinkedIn.
This is the largest business social network. It's often the first online site a potential employer looks at before calling you.
Make sure you have a picture, your jobs section is filled in and that you have at least 20 or more connections to start.
Get some business cards made.

Keep it simple with your name and areas of interest, like marketing, project management, information technology, C++, java developer, etc. Make me remember you after an event.

Include your email address, phone number and your LinkedIn profile address and website, if you have one.
Create a simple elevator speech to start the conversation.

Rehearse it enough that you feel confident saying it, but it should not sound too rehearsed.

Test it on a friend!

Find a group that has similar interests to yours.

Look at the event calendar, see if there is an event that is about one to two hours. Go to the event, talk to one person, then move on to one more person.

Get a business card of the people that you talk to. I will often write the date and the event I met them at on the back of their card and maybe something we spoke about.

After the event — follow up!
Say hello, connect on LinkedIn… this is also networking! At least with this type of networking it is less intimidating to the non-networking type.

Remember Networking is a skill set in your job hunting toolkit — one you will have to develop in this odd era of job hunting.

Other networking articles online that a non-networker might want to read:

Carrie Hensel - CEO of InnerCicle Media, Co-founder of WXW:
• Business Networking: Eight tips to help you make a great impression

Greg Peters - The Reluctant Networker:
• Using your networking skills with friends and family
• Networking lessons from my daughter: never fear and know what you want
• Beware of 'bait and switch' networking — (this one is important since the unemployed are often targets)
• A toolkit for networking events: Eight tips for what to bring with you

Gary Heitman - Business Development, Corporate Liaison - Ann Arbor Center for Independent Living
• Networking is important - Here are some tips for events
• How to network

Kim Kachadoorian is also known as the "Geeky Marketer". She maintains a job hunting blog Jobs in A2 as well as her Geeky Marketer Blog and Web Site (resume web site with fishing analogies). She is currently looking for her next job and found that helping others was a good way to use her talents. She'll be sharing them with readers of AnnArbor.com's Business Review on a regular basis.